---
2017 YES End of Stay Student Speakers
June 2, 2017
From June 6-8 and June 13-15, 2017, all 2016-17 YES students will participate in end-of-program events in Washington, DC. These events are developed to assist YES students as they transition into YES alumni and return to their home countries. Throughout each week, students will attend a reception to celebration in graduation-like fashion!
During the June 6-8 event, 240 YES students will be hosted on Capitol Hill in the historical Kennedy Caucus Room. Former Senator Lugar, co-founder of YES, will be one of the keynote speakers along with State Department's Acting Assistant Secretary for the Bureau of Educational and Cultural Affairs Mark Taplin. For the June 13-15, nearly 600 YES students will attend a reception at the U.S. Department of State. Students will also have the opportunity to hear from a panel of State Department regional experts.
Six of the graduating YES participants have been selected as student speakers, three for each event. Each student will share about his or her respective exchange experience. Follow #KLYES for minute-by-minute updates and an insider's take on Twitter via @yesprogramnews, on Instagram via @yes.program and Facebook: Facebook.com/YouthExchangeAndStudy.
---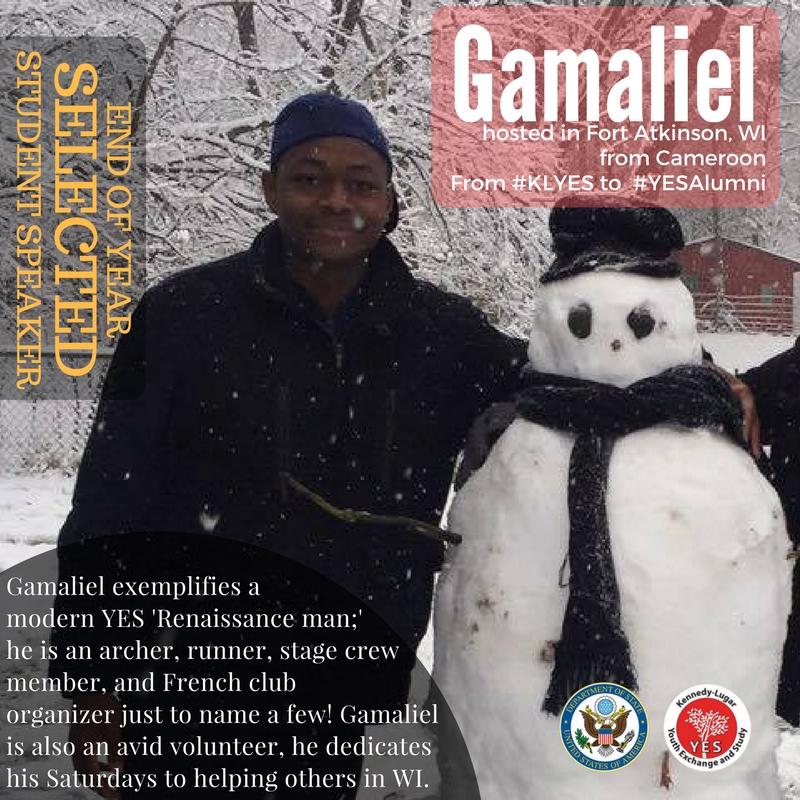 Gamaliel Tekam – from Cameroon, hosted by AFS in Fort Atkinson, WI
To say Gamaliel has had an amazing year in Wisconsin is an understatement. He has taken every opportunity to share his Cameroonian culture and immerse himself in school, host family life, and community service. Gamaliel joined his school's soccer, basketball and track and field teams. He even went on to become his school's high jump conference champion despite having only learned the sport this year! Gamaliel also served as a teacher assistant to his French teacher and lead a number of in-class discussions on African and European culture in addition to his International Education Week presentations. Like Jana, Gamaliel has embraced the American spirit of volunteerism and completed more than 100 hours! Some of his favorite community service activities included making dinner at the local Ronald McDonald house and assisting with logistics at his host family's church. Gamaliel credits his YES year to helping him grow more responsible, confident, and mature. The most important thing he states that he learned this year was from his host dad, and that is to look beyond differences and embrace people for who they are.
---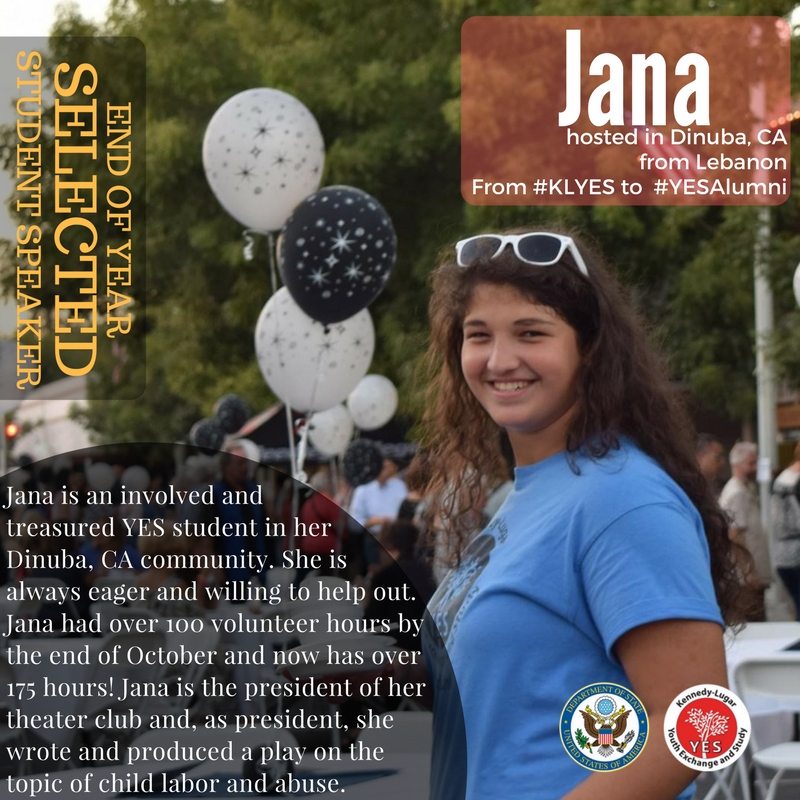 Jana Alghoul – from Lebanon, hosted by World Link in Dinuba, CA
Jana has proven to be a true ambassador of her country and of the YES program by devoting herself to community service, cultural presentations, and demonstrated leadership. One of Jana's biggest discoveries during her time in California has been the joys of community service. As a result, Jana has logged more than 200 volunteer hours! Jana was fortunate to join her high school's leadership class where she learned about the qualities of a true leader, how to work with others, and leading by example. For Global Youth Service Day, Jana gave presentations at her high school to promote her project 'Dinuba High School Hunger Fighters,' where Jana talked about freerice.com's purpose and how it helps feed people around the world through participation in fun brain exercises and games. Jana's Hunger Fighters have raised over 250,000 grains of rice since April! Being a youth ambassador through the YES program shaped Jana into the leader she is today and helped her discover her passion for service.
---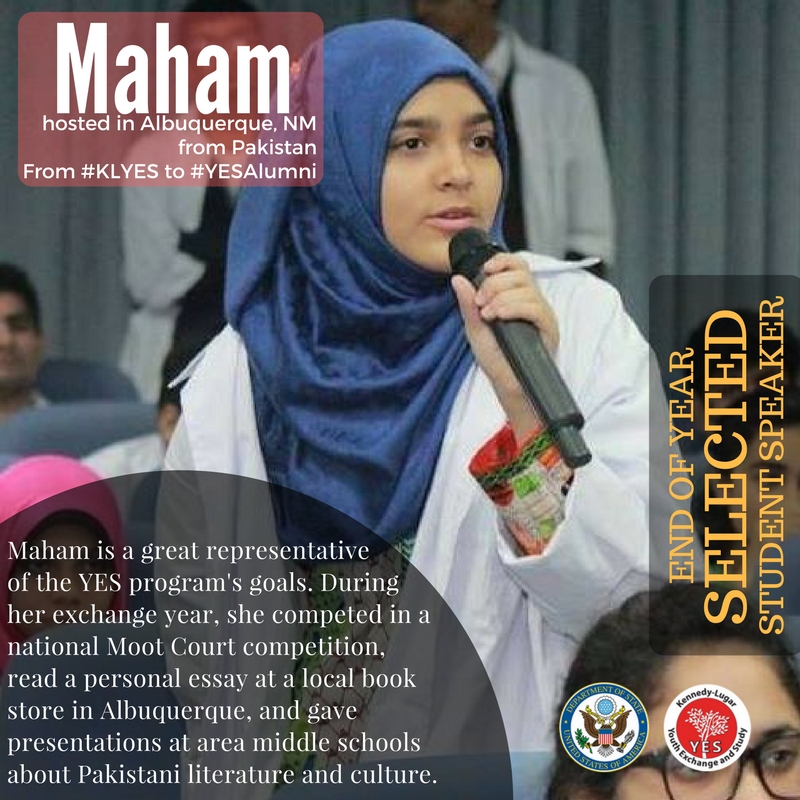 Maham Fatima – from Pakistan, hosted by AFS in Albuquerque, NM
Throughout this year in the friendly American Southwest, Maham has proved her public speaking prowess and her ability to connect with her community and impart the power of the YES program and exchanges. Maham embodies the core goals of the YES program through her communication skills, which helped her to counter stereotypical views of Pakistan and Islam. Maham was impacted when her host mom introduced her to the interfaith community in New Mexico where she learned about the American principle of being tolerant of differences. Maham competed at a national Moot Court competition, read a personal essay at a local NM bookstore, and presented at local middle schools about Pakistani literature. Speaking of the wisdom she has gained this year, she writes, "Do not ever waste your time- I have learned from elders that it is the worst feeling to regret not putting one's time into the right cause." A friend to all, a tutor at a refugee home, and a volunteer event organizer at her school, Maham is a great representative of all that is YES!
---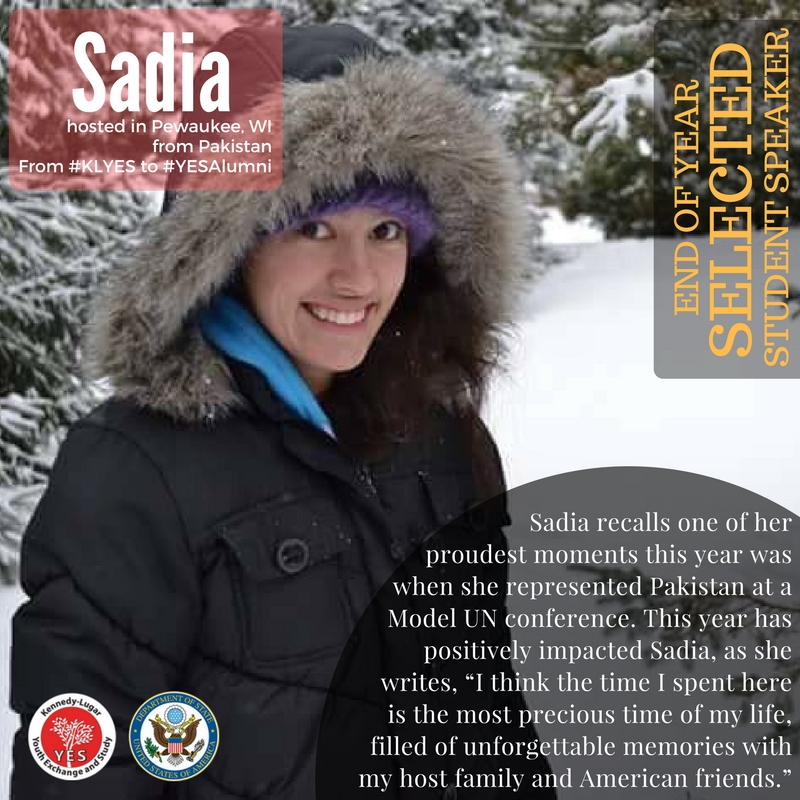 Sadia Abdul – from Pakistan, hosted by AFS in Pewaukee, WI
Sadia shares her story as a Kennedy-Lugar YES exchange student with everyone she meets. She has especially enjoyed sharing her experience as a Pakistani and YES student, explaining that YES has transformed her into a true global citizen with a variety of new interests! During her time in Wisconsin, Sadia learned to play clarinet and participated in many community service events through her school's Key Club. Volunteering is the best part of her YES exchange as it allowed her to meet new people and give back to the host community who embraced her. Sadia has completed over 100 hours of volunteer service since August! One thing Sadia had never done before was play a team sport, so she stepped out of her comfort zone when she decided to join her school's softball team despite not knowing the first thing about it. Sadia learned the rules and how to play, loved the camaraderie of being on a team, and with hard work and help from her teammates, improved much by the end of season! Sadia credits her YES year to transforming her into the strong, independent, and responsible young leader and is looking forward to being a productive YES Alumna when she returns to Pakistan.
---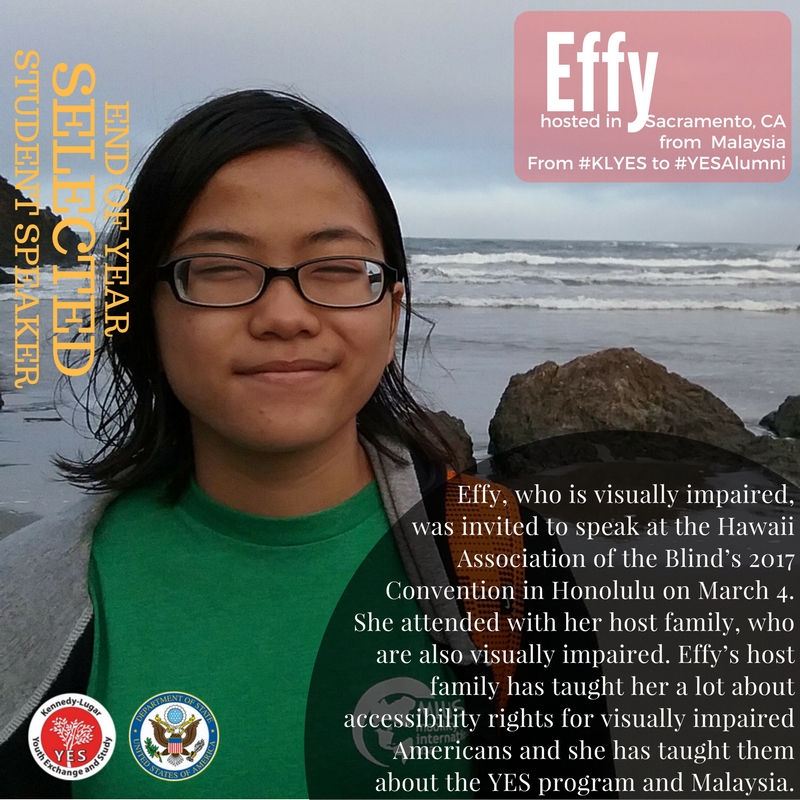 Nur "Effy" Mohd Azmi – from Malaysia, hosted by AC in Sacramento, CA
Effy, a YES student who is visually-impaired, was invited to speak at the Hawaii Association of the Blind's 2017 Convention in Honolulu in March, where she attended with her host family, who are also visually impaired. Effy's host parents and host sister are very active in advocacy and heavily involved in the Sacramento Society for the Blind. Effy has her host parents and sister to thank for this positive growth. She started the program as a shy student with low self-esteem, and it was her host family who encouraged her to explore her true self and embrace every day as both a teachable and learning opportunity. As she approaches the conclusion of her time in California, she leaves as a YES Alumnae with greater self-confidence and the knowledge that one's disability isn't about limitations but about opportunity. Through volunteering, she has used her agency as a citizen diplomat to educate her host community about Malaysian culture and about disabilities. Alongside her host family, Effy joined the American with Disability Act (ADA) movement and is excited about continuing to share the ADA principles of inclusion and the ability within disability at home in Malaysia. Walking through the world as an exchange student with a disability initially required patience and effort, but today Effy can proudly say she is leaving her confident footprint as a YES alumnae on Sacramento and beyond!
---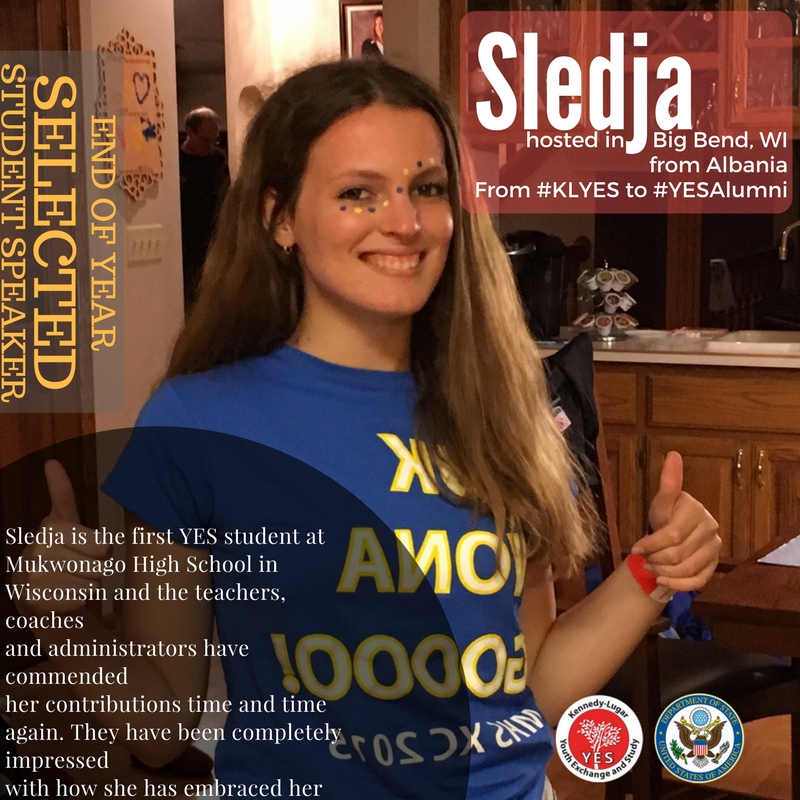 Sledja Ishmakej – from Albania, hosted by PAX in Big Bend, WI
Slejda had always wanted to understand the concept of 'the American dream' and she is returning to Albania having realized her YES year was her American dream. She immersed herself in Big Bend's high school life and joined every club from: German and Spanish clubs, to Ecology, Key Club, and Students Against Violence Everywhere. Sledja was even peer-elected as this year's International Club's President! She also learned about American team spirit by playing lacrosse during spring. All this involvement helped her not only create lasting friendships in Wisconsin, but it has also given her the motivation to start similar extracurricular activities in her home community and share the personal and community benefits of volunteerism in Albania. Sledja knows the joy that comes from giving of yourself and your time to your community. It's no wonder that she too has completed more than 100 hours of community service during her program year! One of her biggest accomplishments was making it to state competitions in forensics where she took seventh place in Wisconsin with an informative speech about Albania. Among Sledja's YES highlights are the Civic Education Workshop and Better Understanding for a Better World conference; Slejda states both events opened her mind and taught her how to be a better citizen of her community, her country, and the world.
---