---
8 Ways Alumni Celebrated International Day of Persons with Disabilities Throughout 2016
November 30, 2016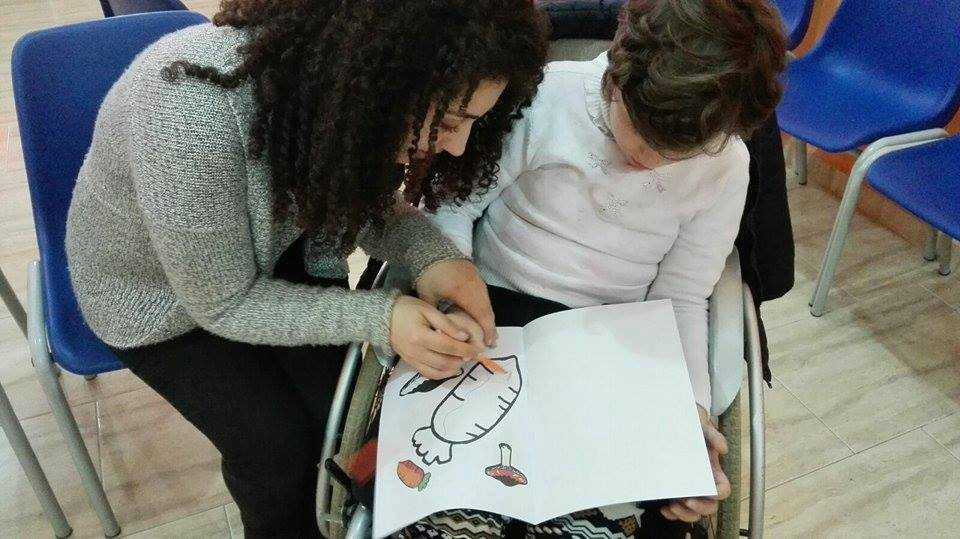 Above: Alumna colors with a child at a center for children with special needs in Fier, Albania.
From organizing empowerment workshops to fundraising for organizations supporting children with disabilities, YES alumni have been able to raise awareness for the inclusion of people with disabilities into their communities throughout 2016.
1. Love Needs No Words in Albania

In the spirit of Valentine's Day, YES alumni in Fier organized a day of fun activities at a center for children with special needs. After playing games and coloring with the children, alumni passed out gifts of art supplies, color books, and pencils to each child, demonstrating that actions do speak louder than words!
Below: Alumna playing games with a child at a center for children with special needs in Fier.
2. Celebrating Random Acts of Kindness in Sierra Leone
Four alumni celebrated Random Acts of Kindness Day by hosting events at the Mapeh Amputee Camp in Makeni, Sierra Leone. After hiking with camp residents, alumni hosted a discussion on the importance of helping others, shared information about the YES program, and donated school materials to over 70 children. Alumni showed that any act of kindness can make a difference in someone's day!
3. YES Alumni Take Action in Jordan
During a three-day debate skills workshop in Amman, 24 YES alumni from both West Bank and Jordan also took time to give back to their community by spending a day in February at the Nazik Al-Hariri Welfare Center for Special Education. Alumni organized activities and games for the Center's students with disabilities, including sports, educational games, crafts and artwork, and music and dance activities. Great job working towards disability mainstreaming, YES alumni!
Below: Alumni from West Bank and Jordan volunteering at the Nazik Al-Hariri Welfare Center for Special Education in Amman.

4. United by Music in Suriname

As a drumming instructor in Suriname, Bjorn Filemon (YES '12) was able to show off his students skills by organizing a performance at the Betheljada Orphanage, a shelter for children with disabilities, in Paramaribo this past February. Bjorn showed the students that music can build bridges, end stigma and stereotyping, and bring people together!
5. Raising Awareness for Special Education in Pakistan
Throughout February, YES alumni in various cities of Pakistan organized workshops promoting the importance and need for special education opportunities for students with visual impairments and learning disabilities. In Karachi, alumni organized teamwork building activities to boost confidence amongst students with learning disabilities; alumni also conducted hygiene and mobility skills workshops at the IDARIEU School for the Blind and Deaf. Alumni in Lahore and Peshawar both organized fun-filled days of crafts and activities for students with physical disabilities and learning disabilities in their respective cities. In Faisalabad, alumni visited the Al-Faisal Institute for the Blind to spend time with both young and older patients. We are proud of the YES alumni in Pakistan for getting involved in improving inclusion of people with disabilities in their communities and raising awareness!
Below: An alumna in Karachi leading an arts and crafts activity.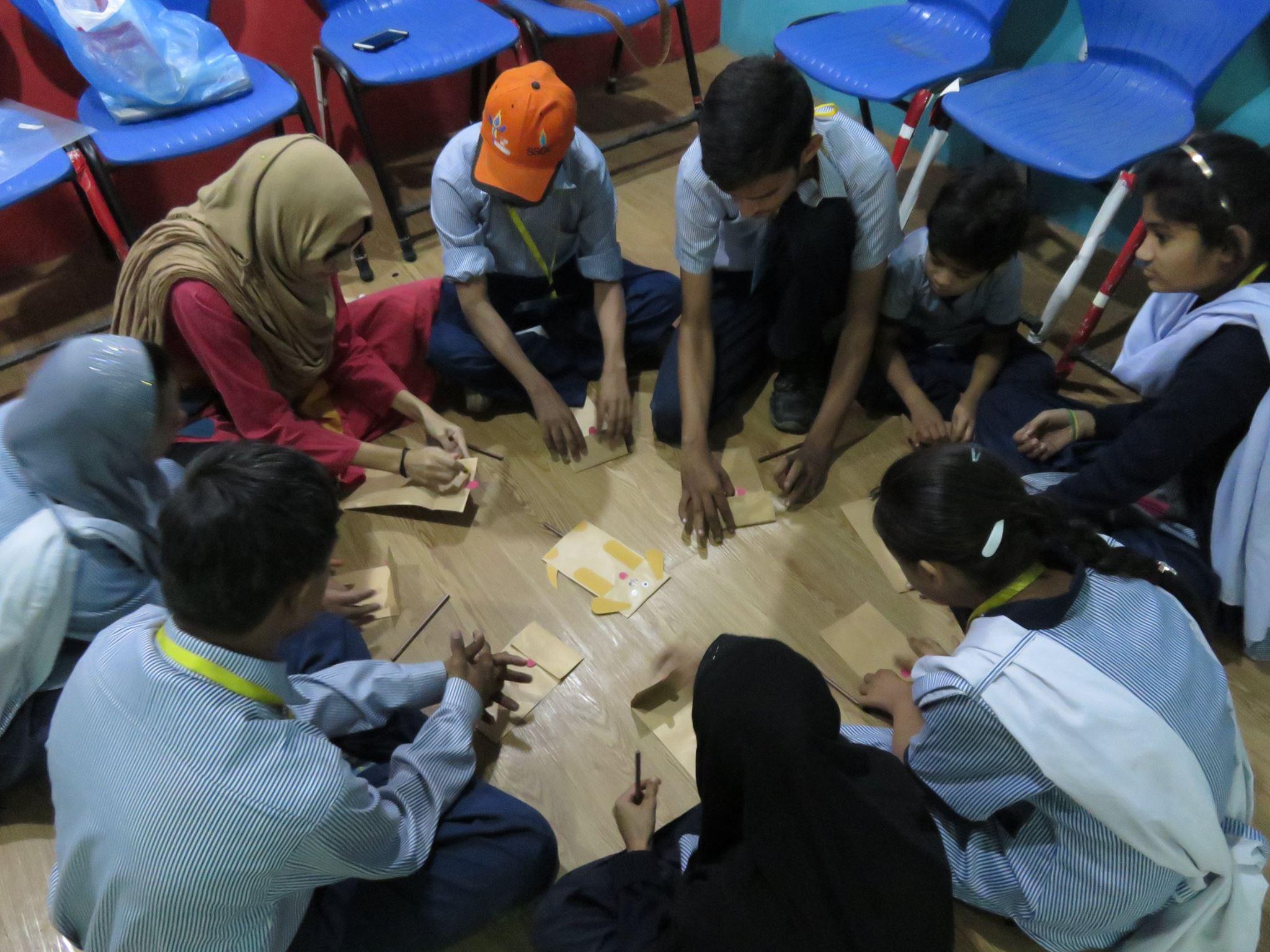 6. Empowering Deaf Students in Tanzania
In March, Moses James Chungu (YES '10) organized a presentation at one of the few schools for students with disabilities in Njombe, Tanzania. With the aim of empowering students and encouraging them to stay in school, Moses provided information on the YES program and on resources available to students to allow them to continue their education after high school. Hopefully some of the attendees will apply to the YES program for next year!
7. A Ramadan to Remember with Patients from the Mental Health Center in Yemen
After attending the YES Alumni Association Leaders Training in South Africa in March, Amr Gamal Al-Alawi (YES '14) returned home determined to organize a fundraising campaign during Ramadan 2016 for the Aslam Mental Health Center. The Center has faced administrative and facility issues, including a lack of sufficient medication for patients, due to the current conflict in Yemen. Throughout Ramadan, 14 alumni were able to raise $785 for the Center, with which they were able to purchase climate-appropriate underclothing for each patient, clothes for the female patients, medicine, and snacks. After their hard work at the hospital, alumni and patients celebrated with an American-style pizza iftar. Despite the many challenges facing citizens of Yemen, these alumni are proving that there are still ways of making a difference in the community and promote the dignity of their neighbors with disabilities!
Below: Alumni Wahi Nabeel Ahmed (YES '14) and Amr Gamal Al-Alawi (YES '14), both on far right, pose with staff in front of the hospital.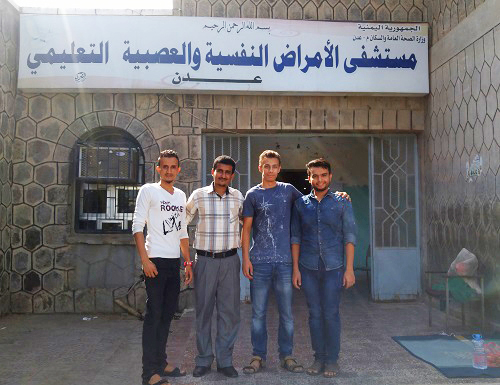 8. Raising Awareness and Funds for Accessible Healthcare for Persons with Disabilities in Mali

Souleymane Sidibe and Koudediatou Diallo, both of YES '14, organized a fundraiser for the Housna Kaso Center, which provides care for children and teenagers with Down syndrome. Souleymane and Koudediatou wrote letters to local businesses and corporations explaining their goal of raising one million West Africa franc to buy antibiotics and food for the center. With the help of their campaign, they nearly reached their goal, and were able to both present donations to the staff and bring the children to the African Institution of Management to spend the day playing games, dancing, singing, and eating together. Thanks to our alumni's advocacy efforts, both the children from the Center and the local community learned that anyone can mobilize action for accessible healthcare. Certainly having a million friends is more important than having a million francs!
---