---
A Year of Discovery and Opportunities
April 19, 2017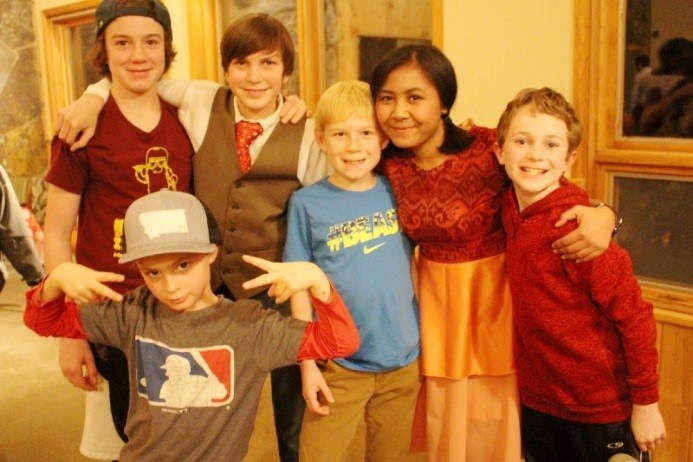 By Ni Putu Sukma Aryanti, YES 2016-2017, Indonesia, hosted by AFS in Montana
Opportunities give me life, because they tell me to try something new. Without opportunities my life would be boring, for there would be no adventures, no experiences, and no worries. For me, life is never flat because life is like a wave, full of exciting opportunities.
I enjoy having opportunities because they make me do things that I have never done before. Opportunities make me live in another part of the world. Opportunities helped me learn how diverse we are. And most importantly, opportunities have made me human.
In my suitcase, before I left for my journey abroad, I packed a blank notebook as well as all the love and hopes showered upon me from everyone back home. In addition to these beautiful treasures, I carried a large weight of anxiety. I had never been outside of my country before and I knew very well that my life would be extremely different abroad. I knew I had to adapt.
Time keeps unfurling itself, minute by minute, hour by hour and season after season. And here I am, left with a no longer blank notebook, but one filled with wondrous memories that I cannot do justice with words alone. Sometimes, I want to think that time is not "flying"- I feel like time has whispered to me to enjoy every moment of my adventure.
When I was a kid, I wanted to be a cheerleader. As an exchange student now, I have done just this and have joined even more activities at school. From these experiences, I have also found amazing, fascinating friends. I'm overjoyed.
I have even discovered a love for children. I mentor kindergarteners every Tuesday and Friday. My "kid" is so cute and smart- I always look forward to teaching and playing with him. One of my close friends remarked, "How are you so great with children? I mean, they always love you!" I never know what to respond to this question, but I'm extremely grateful that I happen to have a knack for this kind of work!
I believe that this exchange year will be one of the most important years of my life. It is not just about representing my country- it is also a year of discovery for myself. It is about figuring out the real me, whatever that personality or identity may be. Before this exchange, I never would've thought that I would've been selected as a member of the All-Star Honor Choir at the University of Montana. It was quite the honor for me to get this membership and I was so happy to be selected along with two of my school friends.
Living in a completely new climate has been quite the interesting experience for me- as a tropical kid, I was elated when I caught sight of the first snowfall. I had been afraid of the cold ever since I had arrived, yet I'm still alive, and thriving, in fact. I live in Whitefish, Montana, so when it turns cold, people go skiing! I had never seen snow and didn't know what skiing even was before, but now I'm a "ski bum"- I love it!
I know I still have time left here, but it's still daunting to know that I will be leaving soon. I just want to thank both my Indonesian and my American families, my friends, and especially all the volunteers who have guided me throughout this thrilling "opportunity!" I can't wait to see what will happen next on this crazy journey!
---