---
Five Ways YES Alumni Celebrated International Women's Day in March
April 19, 2017
In celebration of International Women's Day on March 8, 2017, YES alumni commemorated the contributions of women and worked toward female empowerment in their communities.
1. Random Acts of Flowers and Inspiration in Bulgaria: To celebrate the contributions of women in his community, Georgi Bakoev (YES '16) and four of his classmates (pictured above) distributed flowers and inspirational messages to approximately 100 women in Sofia's Slaveykov Square on March 8.
2. Confronting Women's Issues in Cameroon: On March 15, six YES alumni organized an International Women's Day event at a local high school in Douala. Thirty female students attended the event and discussed the transformation of the status of women in their communities. Alumni presented on topics including the meaning of International Women's Day, illiteracy, teenage pregnancy and other women's health issues. They also gave the students tips on how to become successful leaders.
3. Bringing Smiles to the Hospitals of Bosnia and Herzegovina: YES alumni in Bosnia and Herzegovina celebrated International Women's Day by ensuring that hospitalized women were not forgotten. In Tuzla, a group of alumni wrote and delivered notes and red roses to patients in the rheumatology department of the local hospital. Kristina Lukajic (YES '13) led a workshop of 30 volunteers who made cards, bracelets, cups, and other gifts to give to women in the local hospital's oncology ward in Banja Luka. See them hard at work in the photo below!
4. Coffee with a Women's Empowerment Role Model in the Israel-Arab Communities: Eight YES alumni in Haifa had the opportunity to meet and learn from actress and activist Hanan Abu Zalaf. The group met to discuss women's empowerment at a local coffee shop in celebration of International Women's Day. Zalaf shared her personal story of struggle and her views on gender equality both in the household and society.
5. Highlighting Significant Achievements of Women in Kosovo: This month, YES alumni in Perean and Prishtina organized events exhibiting the special achievements of women in Kosovo. In Perean, Malsore Jusufi (YES '15) led an activity for 32 students from her former elementary school. She presented about successful women she had interviewed, and then participants wrote letters to their future selves and cards for their role models. In Prishtina, Visar Zeka (YES '15) and Erris Boshnjaku (YES '16) organized a movie night, exhibition, and fundraiser at the American School of Kosova. The event (photo below), which was attended by approximately 300 people, featured the stories of eight women from Kosovo who overcame barriers to succeed in challenging fields.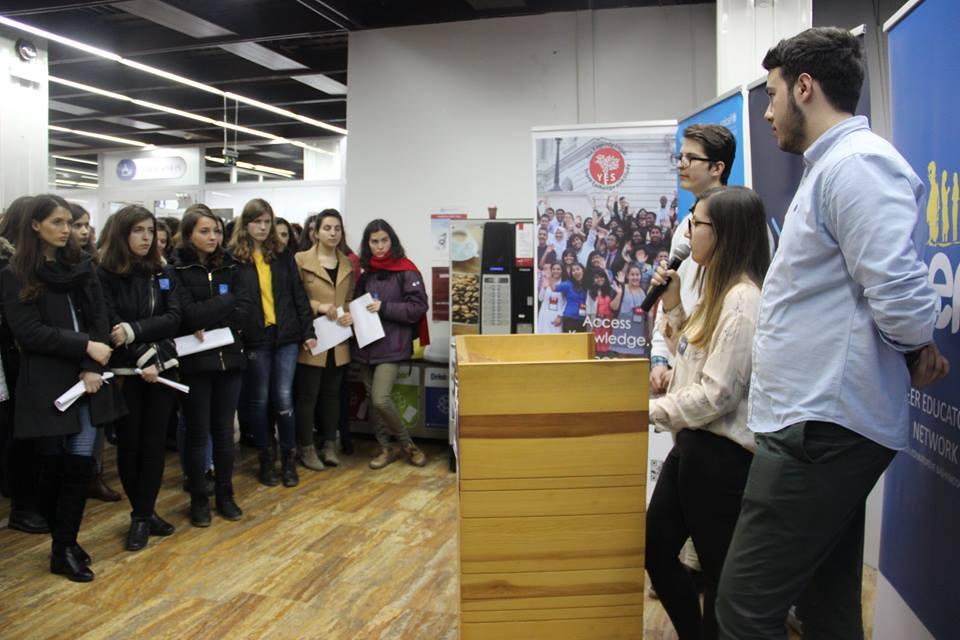 ---