---
Five Ways YES Alumni Shared American Culture in February
March 22, 2017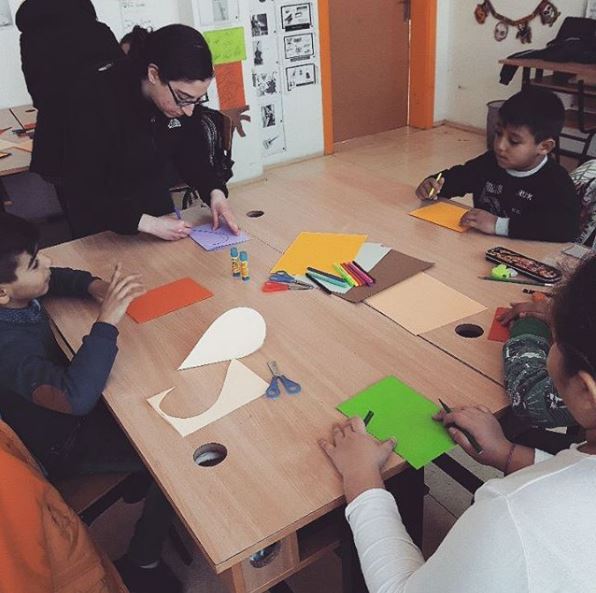 Throughout February 2017, alumni organized and participated in activities showcasing their lasting ties with the U.S. and their knowledge of American culture.
1. Spreading Love in Macedonia: Semra Amet (YES '11) and Filip Stefanovski (YES '14) shared the spirit of Valentine's Day with children at Braka Ramiz i Hamid Elementary School (photo above). On February 14, 2017, the alumni and four YES Abroad students spent the afternoon helping 30 children at the majority Roma school create cards for their families, friends, and teachers. They also taught the students new English words about love and this kindhearted American holiday!
2. Sharing the Meaning and Significance of America's Black History Month: On February 25, seven YES alumni visited Sweet Kids Kindergarten in Bamako to celebrate Black History Month. Through a trivia competition and presentations on important historical figures such as Rosa Parks and Martin Luther King Jr., alumni shared the impact of these important American figures.
3. Playing American Football in Jordan: During his exchange year in Washington, Taj Rajjal (YES '11) fell in love with American football. Since returning to Jordan, Taj has been a key member of Jordan's first American football team, the Amman Barracudas (photo above courtesy of Amman Barracudas Facebook Page). After struggling to find players and equipment for a few years, the Barracudas were able to secure regular coaching support from U.S. Embassy staff in 2015! Since then, interest in American football has grown across Jordan, and former NFL players have even come to visit Taj and his team!
4. Celebrating Black History Month in Sierra Leone: As Americans celebrated the achievements of black Americans throughout February, YES alumni in Sierra Leone joined in the U.S. Embassy's events to recognize the contributions of black Americans to U.S. history and culture (photo above courtesy of U.S. Embassy Freetown, Sierra Leone Facebook Page). Through storytelling, poetry, and music, Embassy staff shared the importance of Black History Month and the connections between the U.S. and Sierra Leone.

5. Teaching English in Albania: Throughout February, six YES alumni led weekly English lessons for children with visual impairments at a center in Tirana. One of the alumni, Ardita Koka (YES '16), also happens to be a Workshop for Youth Leaders in English Teaching (WYLET) alumna, who put her WYLET knowledge to work! The alumni and 17 young participants sang songs in English, played games, and explored the story of Little Red Riding Hood. By the end of the month, the students had learned new fairy tale vocabulary!
---