---
Making it Work: 5 Ways YES Alumni Empower Youth Entrepreneurs
November 17, 2016
Photo above: 3.5 Billion Reasons Trainer Nileema Khan, a professional guidance counselor, spoke about using strategic planning to chalk out future goals and how to combat obstacles faced during this process.

1. 3.5 Billion Reasons starts with Dhaka: Educating the workforce of 2030
As the global labor force approaches 3.5 billion in 2030, there is an increasingly urgent need to prepare the next generation with the tools to join the workforce. There are also 3.5 billion women in the world, and hence there must also be 3.5 billion reasons for girls to pursue higher education and define their lives on their own! 3.5 Billion Reasons is a leadership program for young women living in both urban and rural areas of Bangladesh through peer-to-peer connection and training. This program addresses the growing need for an educated workforce, and seeks to support young women to pursue education, and consequently, to inspire others in their local communities to do the same. 3.5 Billion Reasons launched its social media campaign in October and is currently implementing its in-person workshop. We can think of 3.5 billion reasons why you should follow #BillionReasons on social media to learn more about the impact of this incredible program!

Photo below: The mentors and mentees engaged in discussions regarding the importance behind the #BillionReasons movement, while also getting to know each other!

2. #YESSHECAN! An entrepreneurial and youth development program for girls in Makurdi, Nigeria
Seventeen YES alumni created an entrepreneurial and youth development program for over 80 female students in Benue last month. Four local female entrepreneurs inspired attendees to reach for the stars, including Mdeevan Ato, CEO of Mdoom Groups Benue; Ene Adejo of E&A Designs; Vanen Kwen of Women At Risk Movement; and Honorable Owakoyi Eghiruwa, local government chairperson and women leader in Benue State. The panelists spoke to the students about the benefits of education and entrepreneurship, and reminded the attendees that grassroots activism and local solutions start with them. The speakers encouraged all the girls in attendance to be courageous and to choose whatever career path they want, without allowing society to dictate the path for them. Great job, ladies -way to help grow the next generation of female leaders and entrepreneurs!
Photo below: Participants of the #YESSHECAN program in Nigeria.
3. See a problem? Be the solution: Senegalese YES alumni training on Grassroots Project Management
Alumni Coordinator Seynabou Camara (YES '12) taught six alumni in Kaolack how to turn their community service ideas into projects that successfully address local needs. Participants discussed the assets and resources they had access to and how to capitalize on those assets in order to address local problems. In groups of two, the alumni worked on three grassroots projects: working with Kaolack city officials to install more public trash cans and inform the local community about the link between poor waste management and health concerns; creating stimulating and interactive programming for children at the local hospital; and teaching primary school children how to make pencil cases using recycled plastic string to prevent the loss of school supplies. Seynabou also shared information about how to identify and acquire potential funding and trained the alumni on budget development. "At the end of the day, the alumni were very motivated and excited to start new projects," Seynabou explained. It's great to know that Senegal is in good hands with our YES alumni at the forefront of these initiatives!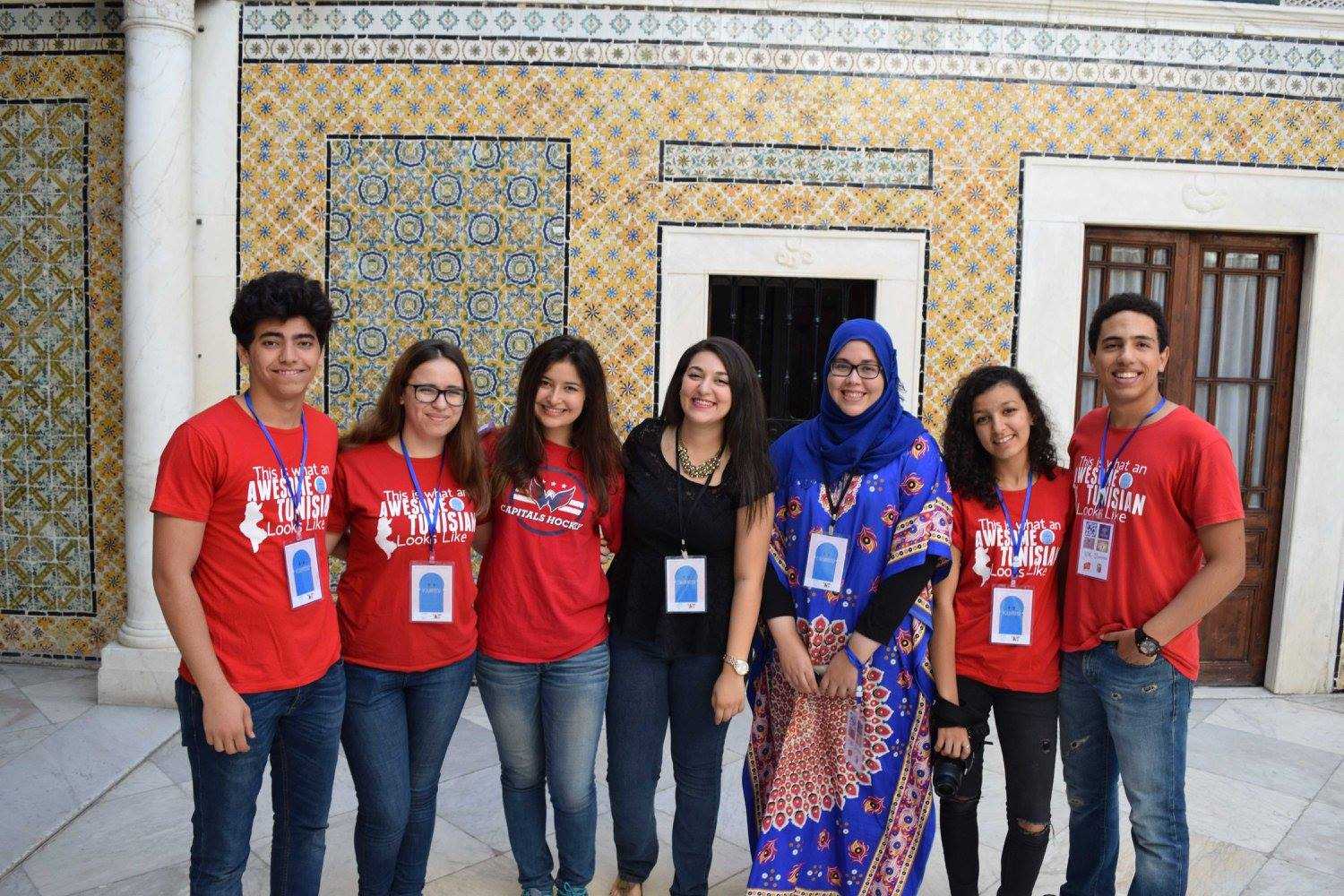 Photo above: Participants of Beb18 workshop in Tunisia.
4. Opening doors of opportunity in Tunisia: Beb18
Beb18 was a workshop organized by a group of outstanding young people from different backgrounds and levels of education who partnered with 13 YES alumni from YES Alumni Association Tunisia and benefited over 60 participants. The name Beb18 ("18th Door" in Arabic) was inspired from the 17 doors situated in the old Medina of Tunis, and symbolizes opening horizons for youth. Several successful entrepreneurs, artists, and activists spoke at Beb18 about their journeys in combining what they love to do with their culture. Between sharing success stories and eating traditional food, the participants were divided into four groups to attend sessions on entrepreneurship, architecture, music, and literature. The trainers were experts in their fields and led discussions about the possible correlation between culture and work, as well as ways to preserve the Tunisian heritage. We're very proud that these YES alumni are opening doors to show other Tunisian youth their bright futures!
Photo below: 13 Tunisian YES alumni helped organize the Beb18 Workshop.
5. Economic Empowerment Training in Zanzibar: Encouraging Young Women to Create Their Own Jobs!
YES alumni collaborated with community members to provide a two-day economic empowerment training for young female students who had recently dropped out of high school. The training helped 35 young women better understand their current situation, develop marketable skills, and prepare to apply to jobs. It introduced participants to the idea that youth and entrepreneurship go hand in hand, and that youth can use their existing skills to create their own employment! The training included discussions on topics like innovation, business planning, and budget creation and implementation. YES alumni and community leaders also facilitated a group discussion for sharing ideas and developing grassroots solutions to common problems. We love hearing about the many ways YES alumni are helping to empower their peers, and wish these young participants all the best!
Entrepreneurship, leadership skills, and professional development are invaluable for any community. It's obvious that YES alumni around the world are eager to build up their peers and help them get ready to make their futures bright and prosperous!
---