---
Naddf: An Environmental Awareness Campaign
November 14, 2014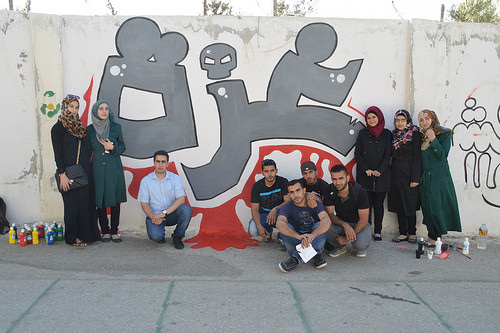 By Mohamed Tahboub, YES 2008-2009, West Bank
My experience in the U.S. as a YES student was like no other. I was an obnoxious teenager ready to take on the world. I changed host families, attended three high schools and made tons of friends. The experience was intense and life-changing. Now I run a business consulting company and created and implemented a YES alumni grant-funded project at my university in Palestine.
I believe in thinking big and changing the world one step at a time. The YES alumni network in the West Bank is very active with tons of activities held yearly to remind us of our true purpose, to give back to our communities. I participated in many of the community service activities held by the YES alumni in the West Bank over the past few years, and each time I realize the importance of community service and helping those in need.
In 2013, I applied to the YES Alumni Grants Program to create a goodwill initiative to increase people's awareness about the importance of having a clean environment. We aimed at creating the Naddf Project, which means "clean" in Arabic. The initiative aimed at targeting Palestine Polytechnic University (PPU) in Hebron's 6,000 students and 500 employees; the direct beneficiaries of this project.
First we asked them to participate in a survey. Most of the students said they would like to start families in the near future. These young men and women told us they like the idea of being a part of an environmental awareness effort at PPU and that they hoped to learn to be able to transfer this knowledge to their future generations; this would spread the impact to as many as 1,500 new families!
The Naddf Project attracted many students to participate enthusiastically, however we faced some delays due to the war in Gaza. As soon as it was possible, we started on the project and decided to include wall paintings expressing support for Gaza and the Palestinian people who suffered such tough times.
The project had many facets as we wanted to make an impact in many ways. We created two educational videos about the importance of the environment, recycling and banning smoking inside university walls. The videos were launched on our Facebook page and were viewed in large numbers; more than 20,000 views each in less than a week. They continue to air on university screens to remind students of the value of the environment. We actually did some paid Facebook ads to reach these numbers.
We designed a brochure to invite students to attend the events conducted in the university; 3,000 brochures were printed and then spread around campus by student volunteers. We shared the videos on Facebook to attract more than 30,000 views on the brochure.
We held a Painting Day, where six wall paintings (2.5 meters by 1.5 meters each) were drawn on university walls, depicting various causes, like the environment, anti-smoking, ecology, and Gaza. One wall, called "Fesh Ghollak," gave students the space to write whatever they wanted on it instead of drawing on university walls and chairs. Over 1,500 students participated in writing on it within the first week. Around 60 student volunteers helped with the drawing of those wall paintings.
We set up 16 trash and recycling bins on campus. Each set contained a can for glass, plastic, paper and food. We held cleaning activities in which students cleaned parts of the university which were considered closed. Over 20 students participated in cleaning, and we succeeded in planting over 50 mini plants and 25 mini trees to help enliven those areas.
We posted over 30 anti-smoking and non-smoking signs around campus to remind students about where smoking is banned, although many still smoked there. The students respect the signs now and those areas are smoke-free now including three cafeterias, and two six-story buildings.
I visited the university last week, and I was surprised to see that our work, which took more than a year of planning, didn't go to waste! The closed areas are now alive, and in one area students even sit and hold studying sessions under a beautiful setting with green plants everywhere they look. The second area is now open as part of the cafeteria where students sit to enjoy their lunch and talk to each other.
I am extremely proud of the efforts of my team and the students of my university. I encourage other YES alumni to create their own projects, as it helps our communities develop and prosper.
Thanks to everyone who helped this project from planning to execution. Thanks YES!
---