---
My Path to a Career in Diplomacy
April 12, 2017
By Ninuma Dullaphan, YES 2011-2012, Thailand, hosted with ACIE in Philmont, NY
My name is Ninuma, but you can call me Nina. I recently graduated with a bachelor's degree in International Relations from Thammasat University in Thailand, and I'll soon be pursuing a post-graduate degree in Conflict, Security and Development at King's College in London in their Department of War Studies. My decision to pursue a career in diplomacy was powerfully influenced by my YES experience. The YES program enabled me to pursue my dream of becoming a young ambassador.
As a Muslim growing up in a Buddhist community, with a Catholic educational background, I learned to live in peaceful coexistence. With my diverse background, I hoped to spread this value to my host community and to also learn from them. I first came to the United States as an exchange student with the mission of building bridges between Muslims and Americans post 9/11. I arrived in Philmont, a small, lovely town in upstate New York, with a warm welcome from the O'Neill family.
This is also where I met other exchange students, including Reem from Israel, Mursal from Afghanistan and Hadeel from Yemen. One thing I liked about hanging out with them is that I learned so much from them. I had never met friends from these countries before, so it was a prestigious opportunity and, more importantly, one that influenced me to pursue my higher education in International Relations. We were quite diverse in terms of practices, ways of life and thoughts. Reem grew up Israel during the conflict with Palestine. Mursal wanted to study medicine to be able to help her people back home. Hadeel wished to end her country's political dispute. I appreciated these women's ambitions to tackle the world's problems. The four of us often worked with my host mother (a Girl Scout leader) and local coordinator to host events that shared our cultures with our host community. We celebrated World Peace Day, Earth Day and even Eid, our Islamic holidays, together with American friends.
During my exchange year, I was also given the exciting opportunity to visit the White House, Congress and the U.S. Department of State. I learned that policy makers are essential in strengthening international security. I was able to observe firsthand the many strategies that they use to implement legislation. It was here that I also learned more about the benefits of the exchange program between U.S. and Muslim nations. Upon returning home, I found myself a completely changed person. I realized I had a much more worldly and open-minded perspective on different issues, and was inspired to pursue my bachelor's degree in International Relations.
Outside of the classroom, I worked on developing a social enterprise with YES students from Indonesia. This collective, called Buku Kami, empowers survivors of sex trafficking by training them on marketable skills and providing them with an alternative source of income through creating notebooks from recycled paper. By working on this initiative, I came to realize the importance of female empowerment, which I had also learned from my host mother and Lynn, my local coordinator. Additionally, I have worked with my fellow alumni and the U.S. Embassy in Thailand on community service projects as a way to give back to my community. One of the most memorable moments I had as a YES alumna was getting to meet President Obama and Secretary Kerry at a Young Southeast Asian Leaders Initiative program. I am impressed by the strong dedication of the U.S. government to encouraging youth development.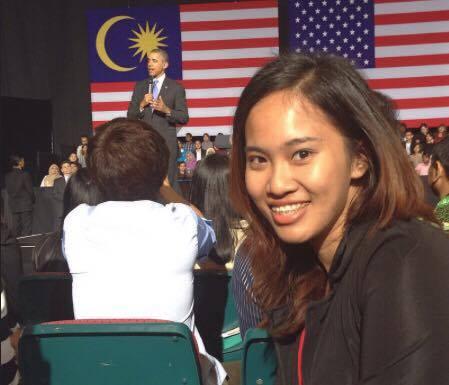 My passion for international relations was further supplemented by an internship at the United Nations in Geneva. I applied for the internship because I wanted to take part in reducing conflicts and creating peace. This was a remarkable opportunity for me to apply the knowledge I gained as both a YES student and alumna towards real diplomacy via meetings and programs. It also enabled me to meet diplomats from around the world. I became passionate in furthering my understanding of the role that developing countries within Asia and Africa play in tackling humanitarian crises.
I wouldn't have had these memorable experiences and opportunities without the YES program and the generosity of the American people. I strongly believe that this program will continue to contribute positive changes and have a lifetime impact on both students and their host communities. I will continue to be an ambassador building bridges between Muslims and Americans, spreading compassion, love and tolerance. Once again, thank you for the opportunity to share this reflection, and thank you, YES program staff, for all your hard work.
---