---
Ohio News Features Qatar and Malaysia YES students
February 17, 2017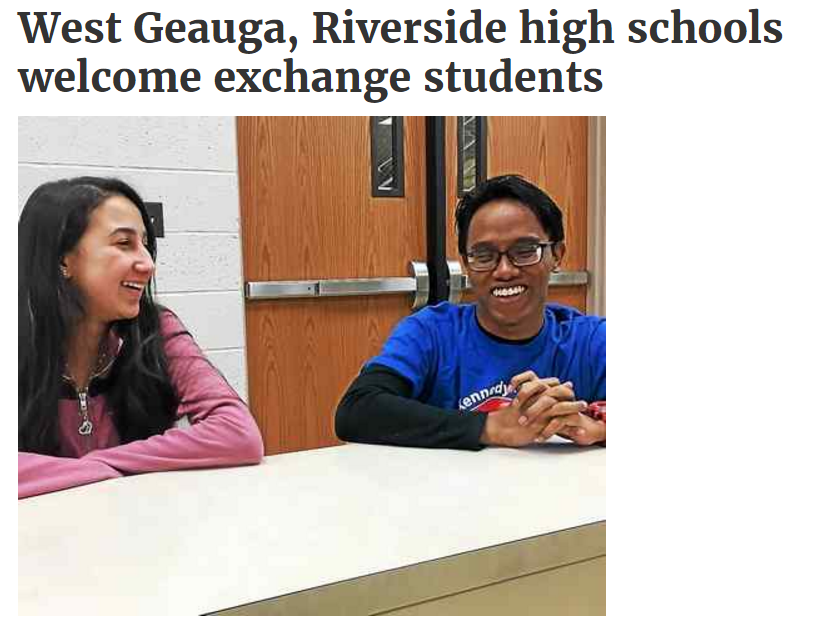 Photo: Amira Mohammad (YES 2016-2017, Qatar, hosted by AFS in Chesterland, OH) and Muhammad Mat Zin (YES 2016-2017, Malaysia, hosted by AFS in Painesville, OH) at their interview.
By Tawana Roberts, originally published on the News-Herald

Studying abroad offers students opportunities to immerse themselves in new cultures, build relationships and gain unique learning experiences.

Through the Kennedy-Lugar Youth Exchange and Study (YES) program, Amira Mohammed, a 16-year-old who lives in Qatar, has been studying at West Geauga High School in Chester Township since August; and Muhammad "Hilmi" Mat Zin, a 17-year-old from Malaysia, has been at Riverside High School in Painesville Township for about three weeks.
Amira said the scholarship application for the YES program has many requirements and the process is extensive.
"You go through tests and interviews," she said. "It's a lot."
Although, the process is challenging and competitive, both Amira and Hilmi said that it is worth it.
"Through social media, I've learned a lot about the American culture, but I learned many things from my host family, like their traditions," Amira said. "I also teach them about my culture."
The academic requirements are similar in Qatar and Malaysia, but there are quite a few differences compared with Northeast Ohio schools.
Amira and Hilmi said they are unable to choose their classes at their home schools.
"I really like study hall and psychology (at Riverside)," Hilmi said. "At study hall, I can talk with my friends and discuss questions that I did not understand in class."
Amira also finds study hall to be beneficial.
"We do not have study halls back at home, so that was nice to have a study hall first semester, because I was playing golf and I needed a study hall to catch up on homework," she said. "I liked to choose my own electives, like I chose psychology, ceramics and sculpture because we don't have that at my school. We have art, but we don't have ceramics and sculpture."
Amira in interested in architecture, interior design, media journalism, law and psychology, whereas Hilmi aspires to be an English teacher.
Both students are amazed by the numerous volunteer opportunities there are for students in America and want to volunteer before returning home.
Studying abroad has many benefits and some challenges, but Amira and Hilmi are adjusting well.
They miss the food and their friends the most.
"Most people here don't eat spicy foods, and when my host family cooks, I just put Tabasco sauce on everything," Hilmi said.
He said he also likes to eat at Panda Express.
"For our Arab and Mediterranean dishes, we use different spices to flavor our food," Amira said. "People do that here, too, but not as much."
One of her favorite restaurants is Chipotle.
Aside from food, adjusting to the weather has been another challenge.
"I miss being able to play soccer outside every day, because it's cold here," Hilmi said. "This is also my first time seeing snow. The first week I got here I had a fever and was feeling sick. It took time to get used to it."
Although, Amira experienced snow and cold weather from traveling with family, she said it never snows or rains in Qatar either and this was quite an adjustment for her, too.
Hilmi and Amira noted that transportation is also a lot different in Lake and Geauga counties. Now, they said they have to ask for rides to commute everywhere.
Hilmi is from a small village where he is able to walk most places and Amira said there is a great public transportation system in Qatar.
Overall, the pair agrees that their experiences have been positive. They said they are having a lot of fun experiencing new things.
Posted with permission from the News-Herald

---