---
Seven Ways YES Alumni are 'Cooking Up' Fun Volunteering Around the World
June 26, 2017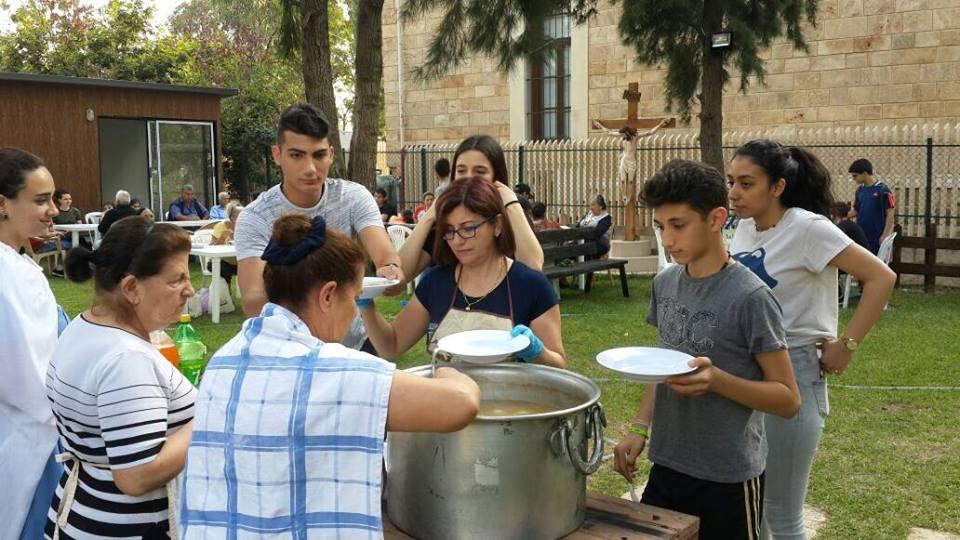 1. Dinner and Entertainment Volunteer Activity in Lebanon: On May 25, four YES alumni volunteered at Mar Antonios Church in Hadath, Lebanon to cook and serve food for community members in need. Alumni Nazih Raychouni (YES '15/AFS), Leen Elharake (YES '15/FLAG), Souhair Ghozayel (YES '08), and Siraj Belgasium (YES '14 Libya/AYA) (pictured above and below) purchased cooking ingredients, and helped prepare and serve food for a total of 45 people. After dinner, the alumni mingled with the people at the church and enjoyed music. We're proud of these 'souper' alumni!
2. Interact Club Ramadan Activity in Tunisia: Alumna Nour Bacha (YES '16/PAX) (pictured below, on right) volunteered with her local Interact Club to organize an event in collaboration with the Municipality of M'hamdia in Ben Arous in Northern Tunisia. The aim of this activity was to help families in need by providing them with food for the month of Ramadan. Nour and 50 other high school students spent five days at Monoprix supermarket to solicit donations from everyday shoppers, allowing the meal program to help 278 Tunisian families in need. The students rented a van to take the food from the supermarket to the Municipality where they distributed the packages to the families two days before Ramadan. There's no secret to the recipe of this alumna's generosity!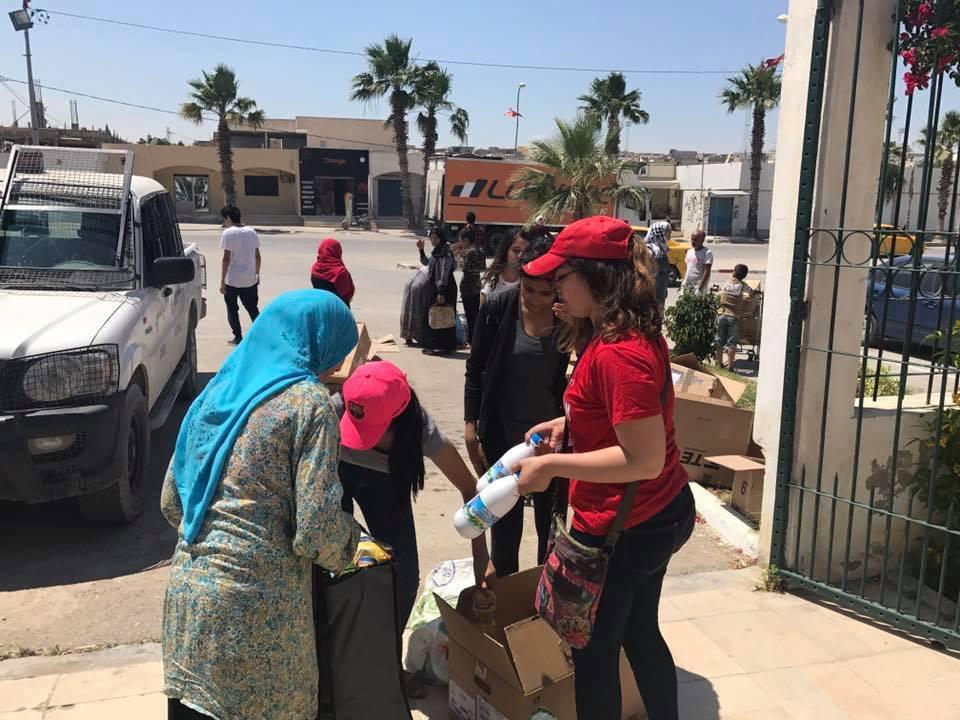 3. Nigerian Alumnus Food Bank Project: Teryima Manta (YES '13/ACES) (pictured below) was one of the participants of the Interfaith Harmony Reach Out Workshop organized by AMIDEAST just this past May. After the workshop, he traveled to his former host community in Aledo, IL, to visit his host family. While visiting, he volunteered at a local food pantry twice each week, where he restocked shelves with food items, packaged food, and cleaned the pantry. This alumnus' kindness really stacks up!
4. YES Virtual Roadshow in Malaysia: In order to promote YES program recruitment, the YES Alumni leadership committee in Malaysia developed a 'virtual roadshow'. YES alumni were asked to post photographs related to aspects of their exchange year, including their favorite American foods, favorite American outfits, favorite memory of America, and much more. Participants added a hashtag related to the theme along with #MyYESExperience. Alumnus Qian Wen Loong's (YES '16/Ayusa) Instagram post features her host community of San Antonio, Texas' Battle of the Flowers Parade, which is the oldest event and largest parade of Fiesta San Antonio. It is the only parade in the United States produced entirely by women, all of whom are volunteers! Qian Wen's post (below) 'beet' all others to receive the highest number of likes.
5. Operation Ramadan in Bamako, Mali: Operation Ramadan is a project organized by five YES alumni in Mali, along with a consortium of seven other local youth organizations to distribute food to families in need one to two times each week during Ramadan. This initiative has evolved into an organization consisting of members and volunteers working through various committees to serve those in need. The largest committee of the organization is the food service committee which prepares and serves meals to the project's beneficiaries. Over 300 people benefited from this project, which was covered by a local television station called, Africable. We love to hear about alumni serving up smiles!
6. Balkan Insider's Tour, Bulgaria: From May 20-25, seven Bulgarian YES alumni introduced their communities, culture, and cuisine to a group of 12 Americans visiting the country (pictured at right, enjoying local cuisine). The group consisted primarily of American Councils volunteers who evaluate YES semi-finalists applications each year, some for more than 10 years! Among these were Ambassador Mary Pendelton, who served as the first ambassador to independent Moldova, and Robert Heath, retired Foreign Service Officer and Executive Director of the Diplomacy Center Foundation. YES Alumni and YES Abroad students Elijah Septoff and Rachel Freeman led walking tours focused on a wide range of topics, from multiculturalism to modern graffiti. In Dzhebel, Viktoria Angelova (YES '16/Ayusa) and her family welcomed the group in their home and served traditional homemade foods and beverages. A toast to cultural exchanges!
7. YES travels to Kseifa for Meeting: In May, a group of YES alumni traveled to Kseifa, Israel to meet students who participated in the iEARN Bridge program. The meeting was a cultural exchange of the American and Bedouin cultures. The YES alumni introduced the Bridge students to American football, dance, and food while the Bridge students displayed and demonstrated Bedouin tradition, art, and culture. The students even walked through an exhibition of Bedouin culture and sampled Bedouin traditional food. These terrific alumni from Israel (Arab Communities) sure know the recipe for lasting friendship!

---