---
Munif Leads The Way
May 18, 2017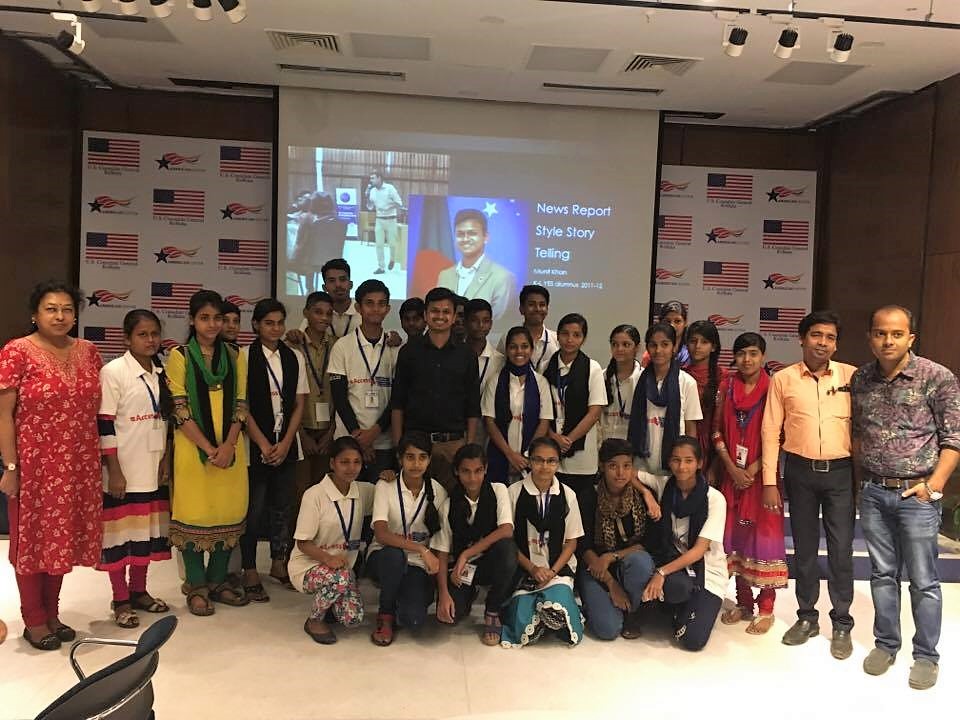 Being a leader and taking initiative play a significant role when it comes to empowering others. Through various projects and activities, YES alumnus, A.F.M Munif Mushfiq Khan (YES 2011-2012, Bangladesh, hosted by American Councils for International Education in Altoona, IA) has demonstrated his ability to empower others to work together towards a common goal. Munif's exceptional leadership skills have resulted in the implementation of several successful and high impact Global Youth Service Day (GYSD) projects in 2017. Below are some of the projects Munif helped to achieve in his community for GYSD!
In preparation for GYSD, Munif organized a webinar to guide his fellow YES alumni in Bangladesh on how to participate in GYSD. With this webinar, YES Alumni Bangladesh and iEARN-BD were able to introduce various project planning strategies to the alumni in order to help them implement their own GYSD projects. The webinar also trained alumni on how to register their projects online and discussed the 8-step GYSD Project Planning Toolkit. The webinar was successfully conducted by Chris Wagner, Director of Partnership of Youth Service America (YSA), the organization behind GYSD.
Munif also coordinated a one-day workshop called, "My Voice Matters", to empower students to exercise their right to procure and report meaningful information.
My relationship with journalism goes a long way back. Since childhood, I watched my father running after news in the small city I grew up in. I never knew that my own passion for journalism would surface during my K-LYES year and continue to grow and spread in the years after. As a YES scholar back in 2011, I had the opportunity to study at Southeast Polk High School in Iowa. There, I worked for "The Rampage" as a Business Manager, which was later awarded the prestigious Gallup Award and I was inducted as a member of Quill and Scroll (International Honorary Society of High School Journalists). My exchange year ended but the idea of free speech and press, which I learned from the first amendment of the U.S constitution, stayed with me."
"My Voice Matters" introduced the concept of citizen journalism and suggested online platforms for blogging to report local and national news. Students from schools and universities in the community attended the workshop and learned how to effectively report news using the "Inverted Pyramid" writing style while creating and managing a WordPress blog. The students also had the opportunity to search for news and conduct short interviews with people on various topics.

Munif also demonstrated his passion for youth development and service by coordinating a self-defense and confidence-building training workshop for students from Agrani Girls' School and College and by supporting the philanthropic efforts of the Sajib Smrity Foundation, a local youth organization. Together with Mobashir Monim (YES 2012-2013), who was a trainer of this project, Munif facilitated a two-hour workshop that introduced Global Youth Service Day (GYSD) and the Sustainable Development Goals (SDGs) to the four founding members of the Sajib Smrity Foundation. This training was a part of the "Call of Service" project started by YES Alumni Bangladesh with the purpose of supporting other organizations in their community.
Currently, Munif is studying in Bangladesh where he continues to serve the community and make a difference. On May 15, 2017, Munif was invited by the American Center in Kolkata, India to organize a workshop on news reporting and interviewing for the participants of the U.S. Department of State's English Access Micro Scholarship Program. The next day, he also presented on citizen journalism at the American Center to local journalists and students interested in journalism.
Congratulations on continuing to take bold steps and make positive impacts as a YES Ambassador, Munif!
---