---
Toy Drive Brings Smiles to Orphanage in Ramallah
June 2, 2012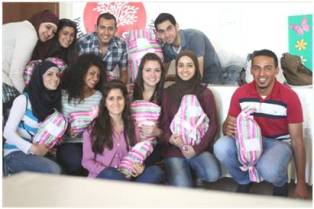 YES Alumni West Bank initiated their first long term activity, a Toy Drive. The idea came to YES Alumni during their Civil Society Involvement and Volunteerism Regional Workshop in Amman, Jordan. In January, YES Alumni began working on the idea in hopes to contribute to the betterment of society.
The Toy Drive launched in Ramallah and will expand to other sites in the future. For the first stage, alumna Lana Shakshir (2008) designing a flyer requesting used toys. This flyer was handed out in different parts of the city in schools, cafes, and public libraries. Toys were collected at the local AMIDEAST office in Ramallah. After a couple of months, alumni obtained a large quantity of toys.
After the donated toys were cleaned, repaired and packaged, YES alumni distributed most toy packages to an all girls orphanage in Bethany, Beit Alzahraa. Toys that were deemd as educational tools for young children, were donated to the Palestine Writing Workshop in Birziet.
On June 2nd, 2012 YES Alumni planned a day of service at the Bethany Orphanage. Starting the day with basic introductions, YES alumni then began a game of Bingo, where the first six winners received gifts. Afterwards a number of activities were held in the orphanage yard, including painting workshops, a game of jeapordy, a talent show for the girls and a tea party. The day ended with distribution of toy packages to the girls.
The Bethany Orphanage administration thanked YES alumni with a letter to show their gratitude.
---