---
U.S. Department of State's YES International Students Celebrate 14 Successful Years of YES Exchanges on Capitol Hill
June 9, 2017
Filling the stately Kennedy Caucus room in the Russell Senate Office Building on June 7, 230 exuberant high school exchange students from the Kennedy-Lugar Youth Exchange and Study (YES) program capped off their 2016-17 academic year with some well-earned fanfare. Speakers at-the-ready to congratulate the group of scholarship students included former U.S. Senator Richard Lugar (YES program co-founder) and Mark Taplin, Acting Assistant Secretary for the U.S. Department of State's Bureau of Educational and Cultural Affairs.
Sen. Lugar shared his delight in being able to participate again in the graduation-like celebration to recognize the collective accomplishments of YES exchange students this academic year. Sen. Lugar stated, "It is critically important that these bright young students experience American culture and return to their countries with a new understanding of our culture and the ways in which we can work together in the future."
"It is our responsibility in this modern, globalized world to gain an understanding of the similarities that unite people from all over the world and the bridges that can be built between our countries."
These students, along with their American classmates who have learned as much or even more from them, are the future leaders of their communities, nations, and the world, and I wish them every continuing success from this graduation day forward."
Touching on the legacy of the Kennedy family, particularly the late Senator Ted Kennedy who co-founded the YES program, Senator Lugar noted how thrilling it is to see their exchange program, created by bipartisan collaboration, continue to flourish and support the world's next generation of peace-builders and leaders.
Acting Assistant Secretary Mark Taplin spoke about the individual accomplishments of 2016-17 YES students, taking time to highlight several recently minted YES alumni.
The Assistant Secretary also congratulated the entire year's graduating class, who contributed over 76,000 volunteer service hours across more than 600 U.S. host communities. Nearly half of this year's students completed more than 100 hours of community service!
Mr. Taplin concluded his remarks, saying: "Many alumni go on to become leaders in their fields—in business, academia, arts and culture, and politics—but you don't have to wait until you graduate from college to make a difference. Around the world, YES alumni, whether individually or in groups, are using the skills they learned on their exchange to empower others in their home countries."
Dr. Dan E. Davidson, President of American Councils for International Education, hosted the event and spoke to students about the ways the year they spent in the U.S. will change their life path and the way they view the world. "We hope you will take home the lessons of community service and the value of civic involvement as well as the leadership skills, the personal motivation, and sense of self-confidence, to address the issues that concern you most in your neighborhoods, cities, and around the globe." More than 98 percent of YES students reported seeing themselves leaving the YES program a world citizen and as more open-minded. It is clear that this year's cohort of YES students have gained much from their time living with American host families and attending high school alongside American peers.
STUDENT PRESENTERS
Three students were selected to speak to the group about their YES experiences.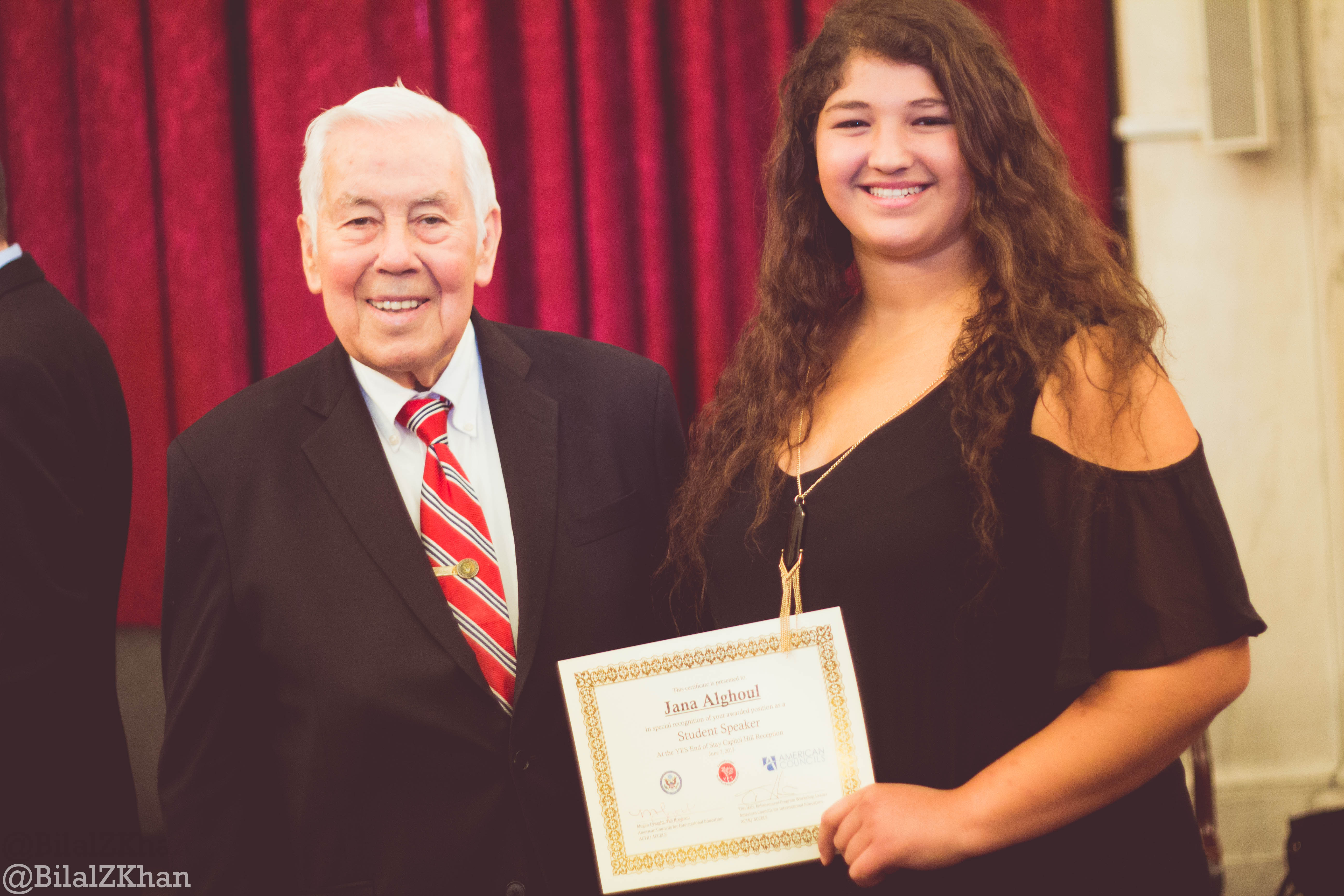 Jana Alghoul – from Lebanon, hosted by World Link in Dinuba, CA
Jana (YES '17) from Lebanon told students about the value of her experience in Dinuba, California with the Munoz's and her community service. Jana has proven to be a true ambassador of her country and of the YES program by devoting herself to community service and logging more than 200 volunteer hours! Jana says of her host family, "The moment I arrived and met the then-strangers, who would transform into my second family, my life was forever changed. My host family became a real family to me, from my mom and dad and host sister to my little cousins and nephew, it all seemed like I was meant to be there in Dinuba, with them."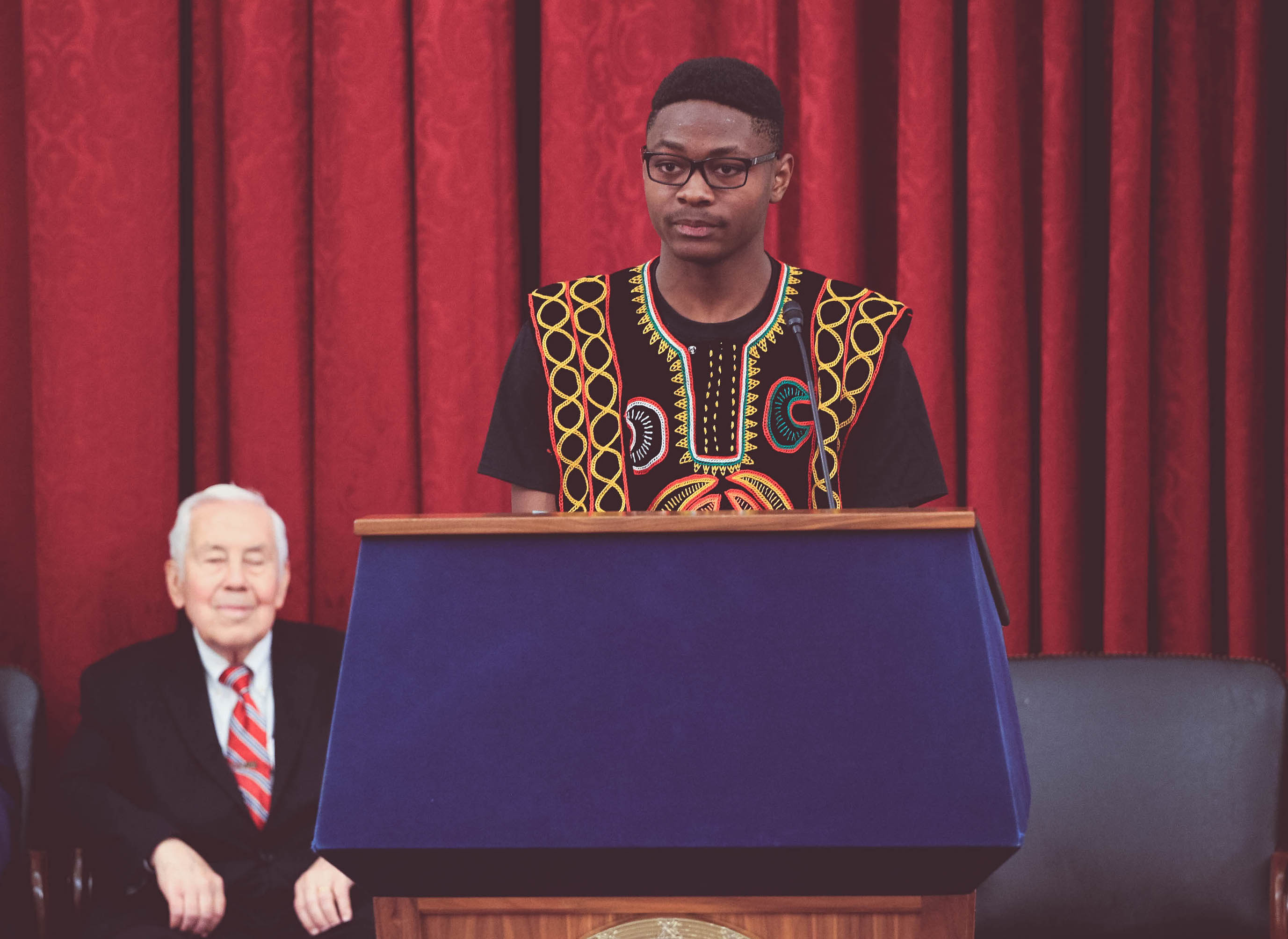 Gamaliel Tekam – from Cameroon, hosted by AFS in Fort Atkinson, WI
Gamaliel from Cameroon has taken every opportunity to share his Cameroonian culture and immerse himself in school, host family life, and community service. Gamaliel joined his school's soccer, basketball, and track and field teams, and he even went on to become his school's high jump conference champion despite having only learned the sport this year! He shared with his graduating YES class and distinguished guests that the most important thing he learned this year from his host dad is to look beyond differences and embrace people for who they are. "I recognize that my YES experience has just begun, and with the unconditional support from my Wisconsinite Dad who lovingly sends me back to Cameroon; I know that I am a young person, a YES alumnus, who is ready to do whatever it takes to be a positive agent of change, and impact the lives of many as we make every effort to better our world together," concluded Gamaliel.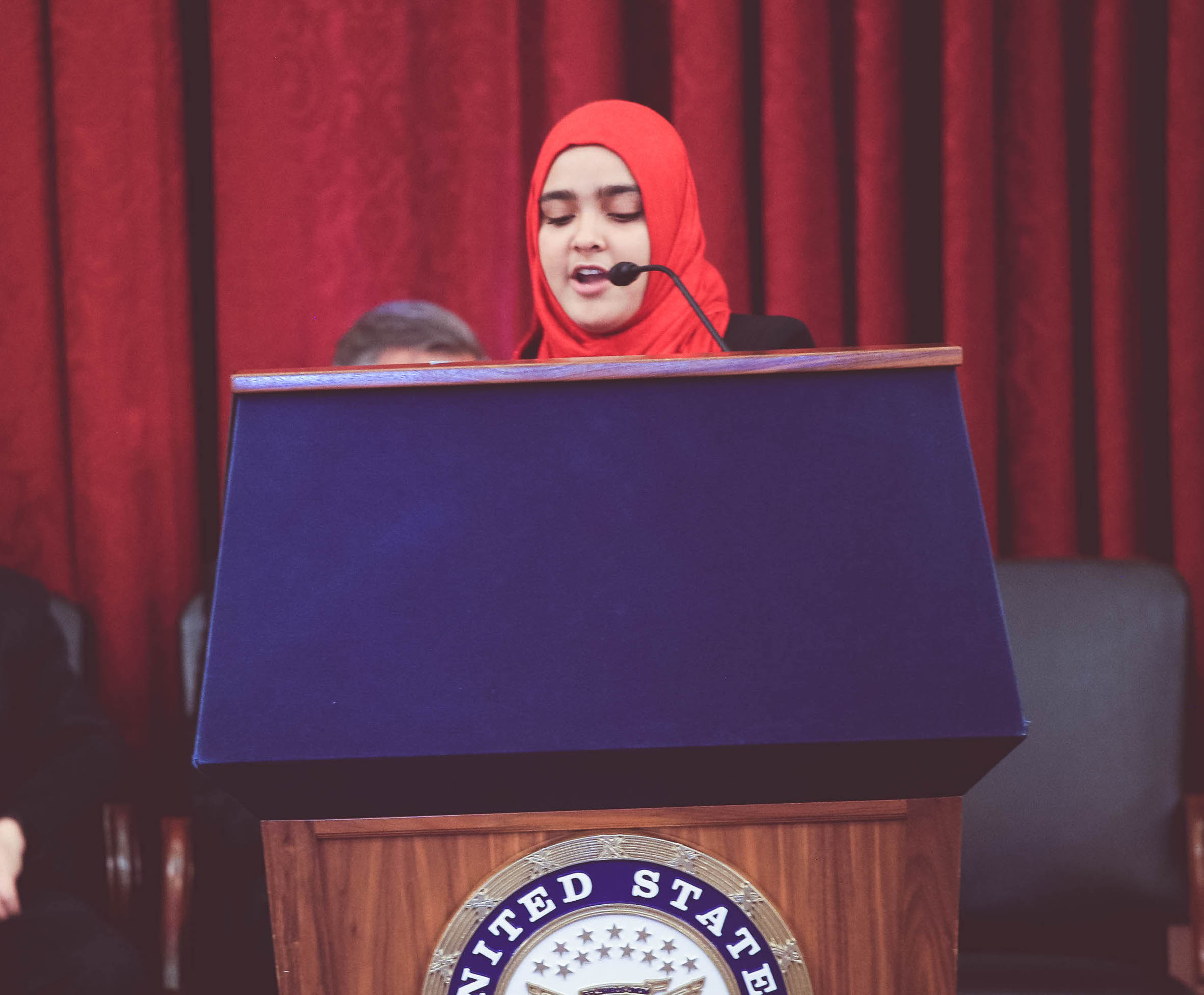 Maham Fatima – from Pakistan, hosted by AFS in Albuquerque, NM
Hosted in the friendly American Southwest, YES student Maham from Pakistan described her YES exchange year as "superb and beyond her wildest dreams." Maham noted that many of her YES peers no doubt understand this feeling. Maham shared that while there may be similarities between each student's YES experience, there are differences too and the difference that stands out the most to Maham is the people – the Americans, the individuals – with whom YES students created lasting bonds. "We each have our own 'best host mom or dad'' or 'best teacher,' these Americans connected us with our host communities and made our time here stateside so sublime."
---