---
YES Students Launch Project Ideas on Global Youth Service Day
May 6, 2015
By Linda Sohlberg, AFS Volunteer Local Coordinator, Greater Puget Sound
YES students from India, Indonesia, Malaysia, Pakistan and Tunisia hosted by AFS in Washington state, teamed up with local high school teens, fellow exchange students and AFS volunteers on Global Youth Service Day to brainstorm how individuals can make a difference in the world. The group, composed of two dozen high school students from eleven different countries, enthusiastically began their day by slogging through the mud to remove protective plastic sleeves from young trees which had been planted in previous years to restore the wetlands habitat. They then traveled to a beach to clean up garbage washed up on the tidal surge. With everyone working together, they were able to clear an entire truckload of garbage!
Afterward, the group attended an International Youth Forum, led by local AFS volunteer and Northwest Watershed Institute Director of Stewardship Jude Rubin, to learn how to be change-makers in both intention and action! The students discussed their passions and brainstormed their circles of influence for making positive change in their communities and around the world. They discovered they could network and create a web of influence greater than just one person to be able to build on an idea and to start a project.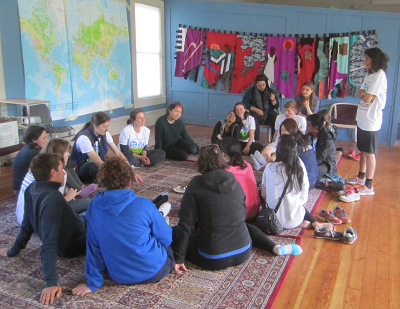 Several YES students who were inspired by their day of service, reflected on the concept of change-making and volunteerism:
Noopur Limbachia, an AFS-hosted YES student from India, shared, "The environment is such an essential part of our world…But when I saw how badly humans have treated it, I felt helpless and thought that just one person like me cannot really do anything. Then, after I gathered with AFS volunteers, exchange students and my cluster coordinator, I realized that if even one person thinks of change, that can help the environment and earth to be a better place. One group of influence can influence another! And it was not just me from one country who thought like that, but so many different people and my international friends all felt the same way! Then I felt not alone and felt the strength of so many nations!"
Tsamara Fadhila thought about some of the environmental issues that affect her home country of Indonesia and ways in which she can begin to tackle these issues on the local level when she returns home: "Indonesia has a lot of environmental problems. Access to clean water is one of Indonesia's biggest problems. Piped water is only available to 30% of people in the cities and 9% in the villages, and we can't use water from the river because it is dirty and we don't have filters. This problem has been on my mind for a long time. Back in Indonesia, I started a project to make a portable water filter, but it was not finished because I was working alone and it was too hard. The concept is to make a water filter in the form of a straw (the size of a small pipe) that can filter water so people can drink it. It will not only help people in Indonesia, but also help people around the world where they don't have clean water. It also will help hikers so they don't need to bring water and they can drink water in the river with the straw."
The environmental discussion we had in Port Townsend made me start thinking about this project again. I was not successful before because I worked alone. The discussion taught me that I can ask for help from a university or another organization that works with water issues. I also can work with the government for funding this project. I hope I can continue this project when I go back to Indonesia."
Jaswan Johan, an AFS-hosted Malyasian YES student, also thought about how he could take this experience and apply it in his home community to enact positive change: "I was fortunate enough to join a program that taught me the wonders of nature and how important nature is for the continuance of some species that live on this earth. We helped the people who took care of a land reserve do preservation work and even helped them clean a bay by picking out trash. Though the trash we picked up was not enough to fully clear the bay of all the trash, it was hard work, and I realized how easy it is to pollute our system, but to clean it, is a whole new level of hard work.
The highlight of the program was a round table discussion about efforts we would like to take in order to restore and protect the environment back in our own countries. Initially I have always felt that my nation was too big of a scale for me to make any difference. I've always thought that my influence could not be big enough to change the entire nation's bad habits, but there I learned of many new ideas that I can try to make a change.
The topic I chose to bring forward to the discussion is Malaysia's problem of excessive use of plastic bags. Plastic bags have been used for packing groceries for many decades. The big problem is how excessively the people of Malaysia use them and how carelessly they dispose of the plastic bags. Careless disposal of plastic bags has led to many drainage problems and to river pollution. Now, many rivers have become uninhabitable to everything but deadly bacterias, and flash floods have occured due to clogs in the drainage system. My suggestion for a solution to this problem is an awareness campaign that shows people the effects of carelessly disposing plastic bags."
Zainab Safdar, a YES student from Pakistan, reflected, "I gained and learned a lot from this day of service…I believe that we are facing a lot of environmental issues all around the world and it's our responsibility to society and ourselves to help solve these issues.I feel like these discussions cleared my mind and showed me a number of ways to take initiative and work for my people."
---