---
Youth Under Construction
September 5, 2017
By Ahmed Nasri, YES 2012-2013, Tunisia, hosted by AFS in Wayland, MA
30 young participants from all over Tunisia gathered on August 14-15 to join the Youth Under Construction (YUC) workshop in the capital, Tunis. The workshop was organized by a group of YES Alumni from Tunisia in partnership with the American Corner Tunis and the Exchange Programs Department in AMIDEAST Tunis.
Youth Under Construction is a project that I developed during Beyond YES in Jordan last April. Throughout the week-long summit and thanks to the trainers and organizers of Beyond YES, I was able to turn YUC from a simple idea into a fully developed workshop. This two day workshop aimed to equip college students and graduates with the essential soft skills that they need for the competitive job market and in their professional careers. The workshop focused on communication, leadership, career development, conflict resolution, problem solving, and other
relevant topics. For its first edition, Youth Under Construction received more than 140 applications and after a rigorous and competitive selection, the 30 best applicants were invited to join.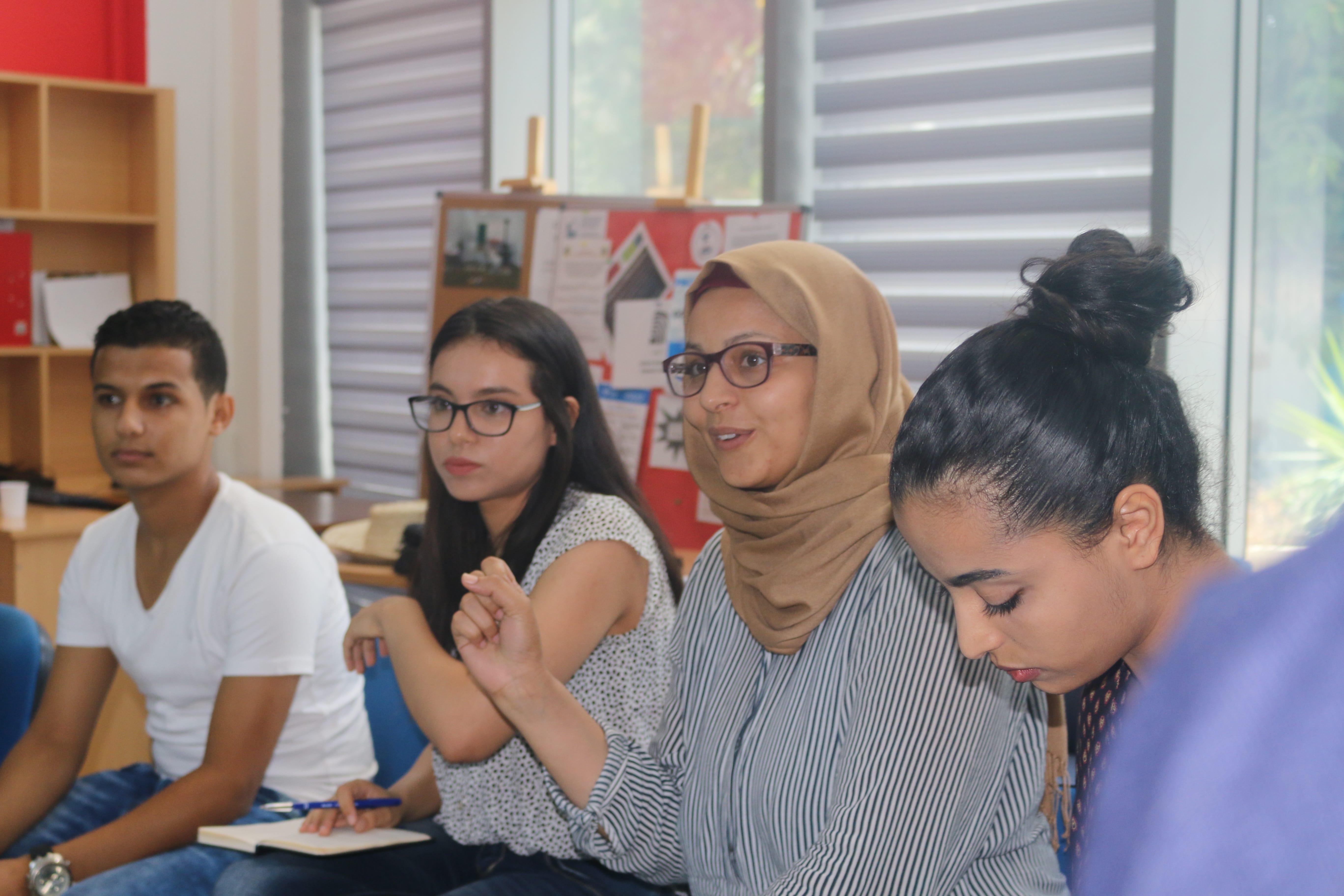 The first day of the workshop kicked off with a game of "Human Bingo." This allowed us to get to know each other better and to discover what we share in common. It was a good way to spark conversations between the participants and to create friendships! We all discussed our personal missions, our career goals, and why we're participating in the YUC workshop using the SMART goal setting and the SWOT analysis.
After sharing their goals and expectations, the participants shared their opinions on college education, job search, and internships in a debate style activity that aimed to develop their communication skills and public speaking.
Later on, Khouloud Makhlouf (YES 2006-2007, Tunisia, hosted by CCI in Missoula, MT) presented about CV dos and don'ts and held a Q&A on how to build a strong CV and resume. Right after that, Ines Hmila (YES 2011-2012, Tunisia, hosted by American Councils in East Moline, IL) presented about job interviews and how to succeed in convincing recruiters to hire you. Both presentations helped the participants get a general idea about job searches and the necessary first steps they should take in their career development.
The second day started with a presentation about the power of positive attitude, stress management, and how to stay optimistic during the job search, school year, and everyday life. The presentation was followed by a group activity that aimed to develop the participants' decision-making skills through scenarios and real-life simulations. The activity was followed by a presentation by Fradj Frad (YES 2015-2016, Tunisia, hosted by AYA/AIFS in Troupsburg, NY) about nonverbal communication and how important it is to be aware of our body language when we're networking or during a job interview. After that, the participants had the chance to learn about elevator pitching and how they can convince a recruiter or their future employer to hire them or sponsor their entrepreneurial idea in less than 60 seconds.
The final presentation was by Koussay Khelil (YES 2013-2014, Tunisia hosted by PAX in Antonito, CO) about networking as a chance to market yourself and your skills to potential employers. He talked about dos and don'ts of networking and how to get the best out of it. We then ended the workshop with a discussion about calls and emails etiquettes and how to act and be professional in the workplace.
The workshop ended with a group photo and a networking event, where we all celebrated the successful completion of the first edition of YUC. The participants shared their contacts information with one another and took goodbye pictures for memories.
Since the end of YUC, I have been receiving good news from participants who applied what they learned in the workshop and who succeeded in getting a job, an internship, or a scholarship. As an organizer, YUC has also changed me in so many ways. I was able to learn and grow from each one of the participants and I learned a lot myself from the presentation of my fellow YES Alumni who were the backbone of the workshop and without whom YUC wouldn't have been a success.
Now that the first edition is over, we hope to organize a second edition next summer to train more young people and college graduates and to equip them with the skills they need for a successful career.
"As a new graduate who is eager to start building a career, YUC prepared me for my upcoming journey. The workshop provided me with guidelines on how to build an academic CV, how to set goals and plan to reach them within a deadline and how important it is to maintain a vivid social media presence on various platforms... YUC helped shape my vision of the future and any career choice I might take I am sure I can navigate through with the skills I acquired during the training." - Rania Sliti
"I have admired those who could speak in public and make it sound completely natural. Public speaking has always been one of my biggest fears. That however changed after a 2-day-workshop with Youth Under Construction. Not only I learned some new techniques that would eventually help with my future presentations, but I also gained more confidence as I saw Ahmed as well as those attended the workshop speak easily, as if it was an everyday conversation. YUC has been one of my best experiences and I'm thankful I met some wonderful and inspirational people." - Meriem Matallaoui

"During the workshop, I learned how to be open to new ideas as well as how to be flexible to embrace change and to perceive challenges as a catalyst for success. In fact, being taught by motivated and knowledgeable trainers represented to me a real opportunity to improve my skills, as I learned how to be an effective speaker, how to succeed in job
interviews, write an appropriate Curriculum Vitae and most importantly how to use all these
acquired skills to become a well-rounded and effective leader in the future." - Safa Triki

"Youth Under Construction workshop was really captivating experience. Having the chance to be surrounded by all those people who are eager to learn and succeed and have a loaded professional life was inspiring and encouraged me to fight for my dreams. Also the organizers of the event were very friendly and made us feel comfortable during the workshop. I was really impressed by their positive energy and their longing to help us and teach us new interesting and useful information... It was a new unforgettable experience that I am proud to have in my profile. Finally I am a YUC alumna and proud." - Asma Khazri
---