---
IEW Highlights Across the USA
November 30, 2016
Throughout International Education Week from Nov. 14-18 (and the weekends before and after!), from Alaska to North Carolina, YES students hosted with AFS conducted over 2,500 presentations to over 45,000 people in communities large and small. Here are some reflections in their own words:
"I just feel so amazing and happy to be able to share my country with all of these people. I made one presentation and the next day the student council invited me to do one and people just kept asking me one after the other; they all loved it and so did I. I feel like all the students know me more now and I just feel more comfortable and happy. I can't believe the knowledge I gained about my country and how proud I am of it right now, and d how I changed a lot of people's perspectives of Islam and Saudi Arabia for the better. I just couldn't be more proud of myself and my country and what I've become because of this exchange .." -- Tala Bajobair from Saudi Arabia, hosted in Weston, Wisconsin
"Those presentations didn't only help Americans have a better understanding of the world, it also helped me understand the world better and make a lot of friends!" -- Nofouz Maswada, West Bank, hosted in Portland, Oregon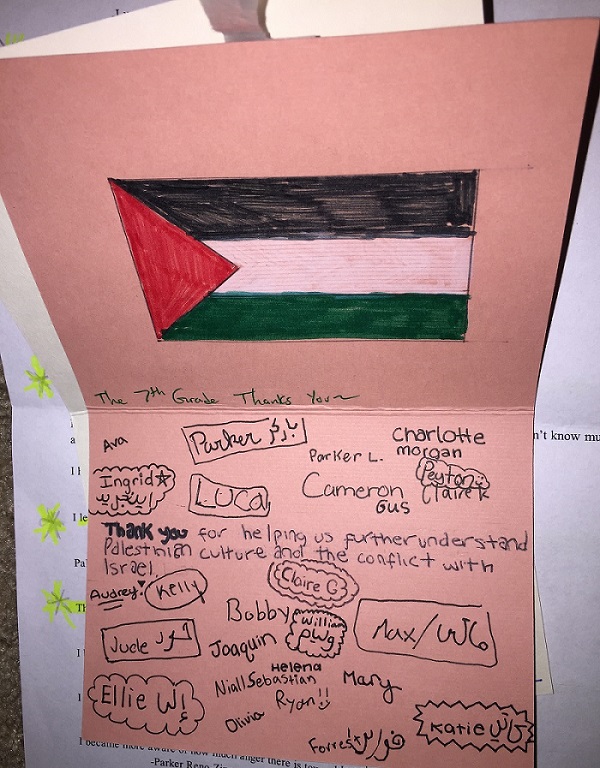 "After I had finished a presentation at a middle school, some students came up to me and gave me two origami hearts and said: Thanks for sharing your culture with us and motivating us to become exchange students!" -- Maria Kelen Toby, Indonesia, hosted in Sitka, Alaska
"What a fabulous day! I presented about Tanzania to a Model UN Club at Columbia High School in Maplewood. Everyone was excited to hear about my country especially about Khanga - a Tanzanian traditional piece of cloth, brightly colored and printed in bold designs which has various uses. The students were willing fashion models for my designs and they all looked amazing." -- Thereza Joseph, Tanzania, hosted in Oakland, New Jersey
"The best thing was the interest shown by the audience and how proud I felt when my principal asked me to present in front of him and the whole staff. I felt truly honored." --Maheen Wahab, Pakistan, hosted in Pittsburgh, Pennsylvania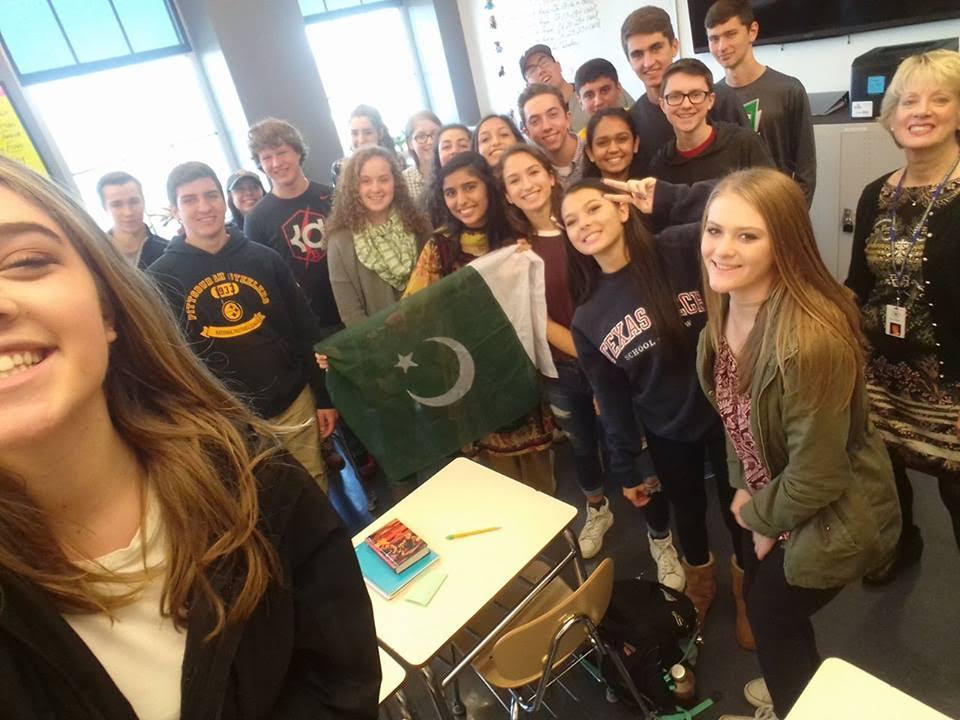 "I think that sharing my personal stories about my country made it more real for the audience." --Luna Besaiso, Gaza, hosted in Marietta, OH
"I'm so proud of International Education Week, which allowed me to introduce my country to others and open their eyes and minds to it. I feel like being an exchange student is an extremely important job and part of my life. I can't wait to continue to teach everyone about my country for as long as I have more time here!" -- Asa Nobessito, Indonesia, hosted in Hatley, WI
"The day after my presentation, a parent came up to my host parents to say that their daughter really wanted to go to Jordan." --Mira AlSharayr, Jordan, hosted in Two Harbors, MN
"Teachers were so welcoming and gave me all the time that I need. I think I managed to keep all people's attention because I adjusted my presentations to each group's age or the environment that I was presenting in, so that all people will be interested and feel that they can relate to the stuff that I'm talking about. For example, I presented in front of elementary, middle and high school students, also to students at the university and elderly people….I knew IEW would be so fun, but I never imagined it would be that fun." -- Nor Abu Hajul, Israel, hosted in Oshkosh, WI
"Each class wanted me to continue talking with them long after my presentation was finished….They really liked it - they even asked the teacher if they could be late for the next class so that they could keep talking to me. The teachers said they were very impressed. This was my first time ever standing up and talking in front of anyone so I was very nervous, but I had practiced a lot with my host mummy and I talked slowly and loudly. I am very proud of what I did and I know my fellow students had a great time." -- Hassan Hassan, Tanzania, hosted in Fayetteville, NC
"I got very good feedback after the presentations. One of the students came to me and told me, "Your country is so beautiful. I would like to go to visit your country." Another student told me, "I want to apply for an exchange program. Can you tell me more about the exchange program?" -- Ehtesam Utsho, Bangladesh, hosted in Portland, OR
"So far, International Education Week has been my favorite experience during my exchange year. Giving presentations in many classes at my High School, Girl Scout group and Rotary Club gave me the opportunity to share my culture with others. I did this through teaching a group of girls how to sing and dance my traditional music, sharing my traditional food and also teaching my native language.
IEW also gave me the opportunity to correct some misperceptions and stereotypes, such as people thinking all Muslims are terrorists, that Africa is one country, we don't have houses or wear shoes, etc. I was proud that I gained more courage and confidence to stand in front of people to talk and answer questions.
This is a great opportunity given to us by the U.S Department of State to celebrate this week as part of our exchange year and we really appreciate it. THANK YOU" --Maryam Nuraddin, Nigeria, hosted in Hillsboro, OR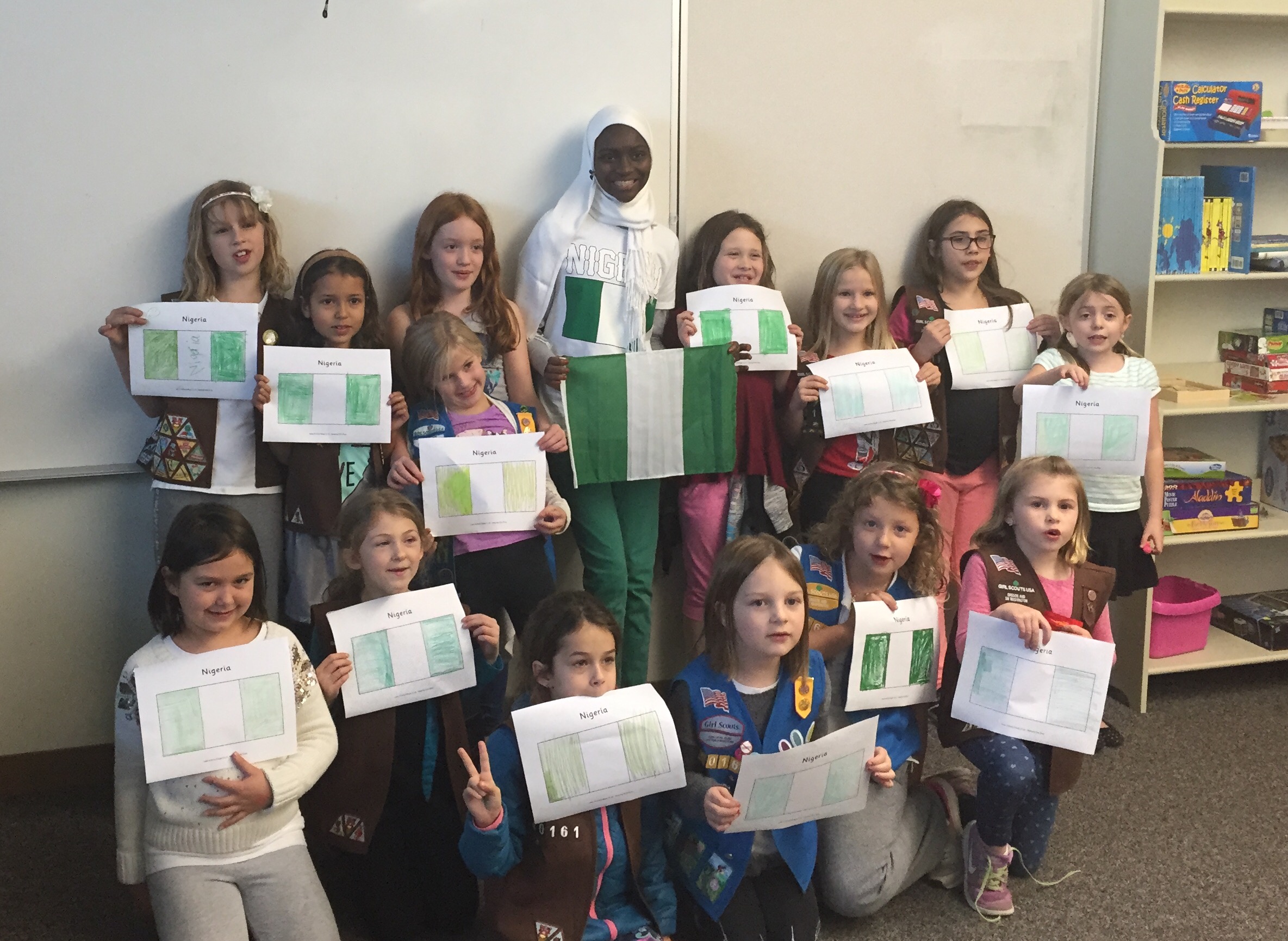 ---