---
Dreams to Reality
June 1, 2017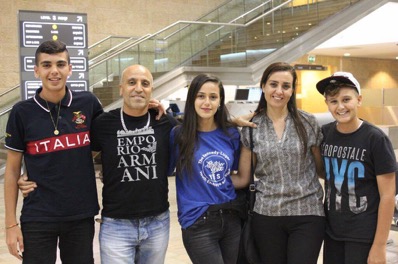 By Shada Abbas, YES 2016-2017, Israel, Hosted by AFS in Seattle, WA
(Dedicated to my family...)
It all started as a dream. I was in the second grade when I heard my mom talking about it with her high school students. Exchange. My mom knew I was going to be an exchange student one day. She knew because of my passion for working hard to accomplish my goals. My dad knew how much I wanted to live in America. He knew how much I loved watching American movies, listening to songs, dancing to the music. How did he know? Because I did all of those things with him. He introduced me to American movies and music by artists like Michael Jackson. So from my experience with American culture miles away, I knew I wanted to go to the U.S. I knew it was going to be different.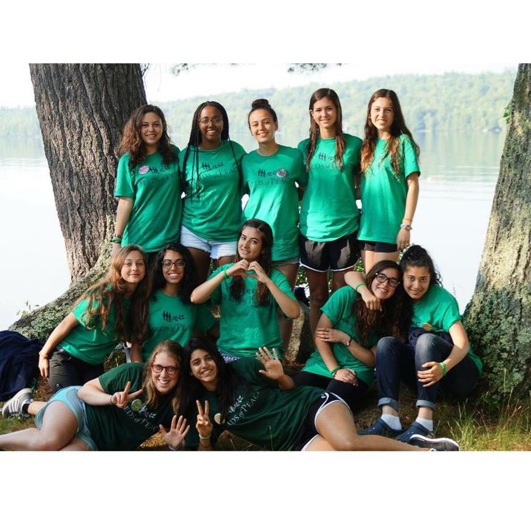 The idea of living in the U.S. for an exchange year never left my mind. I just didn't focus on it that much until the 8th grade. I wanted to apply for an exchange program when I became a freshman in high school. I started working on my English, taking TOEFL and IELTS tests online. I worked so hard for a year. One year later, I submitted my application. I passed the first qualifying test and was so happy. Next, I had to be interviewed. Two weeks after my interview, I received the news. I wasn't selected. My heart dropped. I felt so bad and I cried so much. I thought my dreams had been crushed. I thought I wasn't good enough. But, my parents helped me get back on my feet. They believed in me and knew I was good. They convinced me to apply to the "Seeds of Peace" camp. It was a long process, but, in the end, I was selected. I was became a part of the Seeds of Peace family.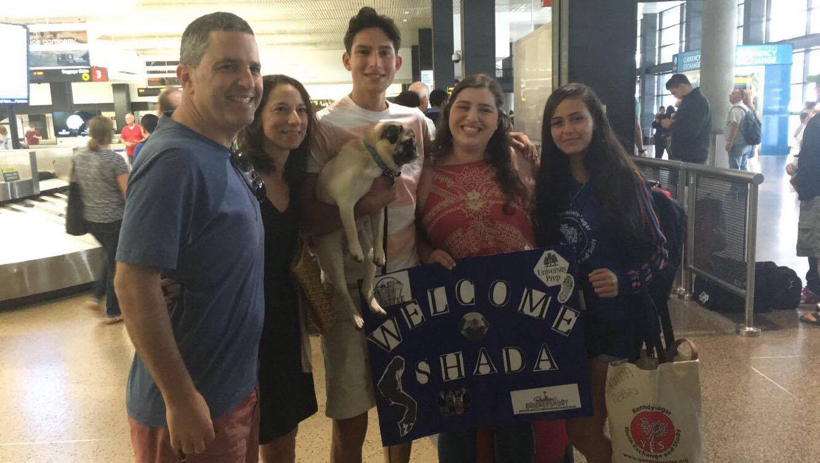 After a month at the "Seeds of Peace" camp, I came home more mature, more prepared, and more open to the outside world. I decided that this year (2016-2017) was going to be my exchange year. I talked to my parents about it and, to my surprise, they weren't as supportive. They couldn't imagine not having me around for a whole year. I was so frustrated. I reminded them about my passion to experience cultural exchange in the U.S. and how much they believed in me. The conversation was convincing and, shortly after, they signed the application papers. I did my best on both tests and at the interview. Finally, on Monday, March 14, 2016, I received an e-mail saying, "I would like to congratulate you for being selected to be a recipient of the 2016-2017 YES Scholarship!" I still remember how happy I was, how proud I was, and how proud my parents were. They were proud that I accomplished a goal I set 10 years ago. Five months later, on August 22, 2016, my delegation and I flew to the U.S. with my dream quickly becoming a reality. I arrived at the airport and met my lovely host family, Richard, Beth, Lila, Jacob and Gracie our pug. My dream was fully a reality.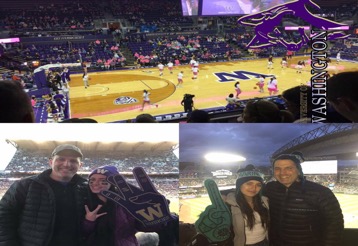 My experience with my phenomenal host family is one I will never forget. I saw the beautiful sites and parks in Seattle and my host family took me to "Bumbershoot" music festival, an amazing experience! My host father and I are both sports lovers so he took me to all of the important sports games. I saw the Huskies women basketball team, the Huskies men football team, Sounders Soccer team,and the Mariners baseball team.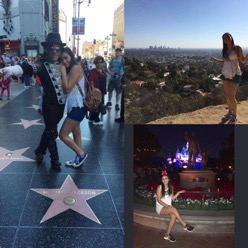 One of my dreams was to visit Los Angeles, Disneyland and to meet Michael Jackson's look-a-like. Guess what we did for Thanksgiving break? We went to Los Angeles, Disneyland and I saw Michael Jackson's look-a-like! My host family read that I wanted to do this on my application.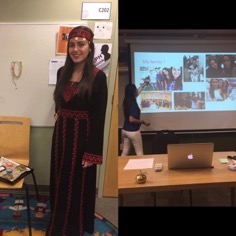 Other than having fun and touring around the U.S., I didn't forget the main reason why I am here. I gave presentations about my home country, life, family and friends back home. I also participated in culture night at my school and showed people my traditional cultural Palestinian dress. I wrote names in Arabic which they thought was really cool, especially because we start writing from right to left which is the opposite of English. People were interested in knowing about the Arab-Israeli conflict and about the lives of Palestinians and Israelis. I was so happy to see how interested people were in the history of Palestine and I was more than happy to answer their questions and to share personal stories about my grandparents when they lost their home and some family members during the 1948 war.
It is May and I am going home in a month. I have mixed feelings of happiness and sadness. I've built a whole new life here. I've made new friends and learned a new language. I've been surrounded by great people and attended an amazing school that always supports me. The life I've dreamed about was exactly what I expected and this year has opened my eyes to see so many opportunities. My experience doesn't stop here. I am striving for more. My next goal is to come back to the U.S. to go to medical school.
When I look back at my experience, I feel like it has been a dream. I made it to the U.S. and I lived a whole year away from home! Now it is time for me to return home to my family who helped make this dream come true, supported me until the day I left, and provided everything I needed in order to get to where I am today. I have a lot to give when I return home. My personality has become more independent, strong and confident. I am aiming to be my school's president and to share what I've learned in the U.S. with my school in Israel.
I am thankful to my mom, dad, and my two brothers for believing in me. I am trying my best to make you proud. Also, thanks to the YES program and my host family for an impactful experience in the U.S.
---