---
Six Ways Alumni Gave Back During Ramadan
July 21, 2017
During the Holy Month of Ramadan (May 26-June 24), YES alumni demonstrated the link between faith, YES, and civic engagement and gave back to their communities by sharing food, experiences, and lots of love!
1. Iftar Alumni Meeting in Senegal: Sometimes sharing a meal involves looking forward to the future and thinking about what you can accomplish as a community. Souleymane Mbaye (YES '11), the new YES Alumni Coordinator in Senegal, wanted his first event to bring YES alumni of different program years together to brainstorm ideas for future colloborative projects. On June 19, at the American Councils office in Dakar, 15 alumni broke fast together while discussing these ideas (photo above). Looks like we can expect to see some great things from YES Senegal Alumni!

2. Ramadan Outreach in Indonesia: The U.S. Embassy in Jakarta hosted nine Ramadan sessions between May 30 and June 15, which were held at the American Corner in Jakarta and local high schools. Nine YES alumni had the chance to share their experiences of being Muslim and observing Ramadan in the U.S. as YES students. The audience, mostly high school students, loved hearing about the alumni's experience of sharing their faith with Americans. Hopefully some of them will apply for YES in the future!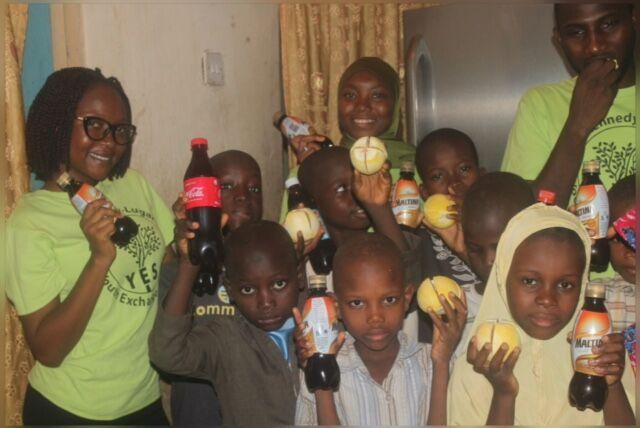 3. Iftar Dinner at AlHeri Orphanage in Nigeria: Food, community, and service are all important parts of observing Ramadan (and the YES exchange year!). On June 17, six YES alumni visited the Alheri Orphanage in Jalingo, where they cooked and shared an Iftar meal (the evening meal when Muslims end their daily Ramadan fast at sunset) with the orphans. The children really enjoyed meeting and eating with YES alumni! (picture left)

4. YES Alumni Iftar Gathering in Lebanon: The YES alumni community in Lebanon (pictured below) knew that a great way to celebrate Ramadan was to welcome the newly returned YES alumni into the YES family! On June 21, alumni from across Lebanon gathered in Arnaoon Village, Batroun to share an Iftar meal together. They also did some outdoor team building activities, like zip lining. How fun!
5. Cairo Suhoor at the U.S. Embassy and Clothing Drive: YES alumni in Egypt organized some exciting projects in observance of Ramadan this month. At a U.S. Embassy event on June 13, Manar Amr (YES '09) shared her experience celebrating Ramadan during her YES exchange year in the U.S. She discussed adapting to school and family while celebrating Ramadan and the support she received from her family, who also fasted with her. Four YES alumni also held a clothing drive at the American University in Cairo on June 23, and as a result, 70 families were able to have new clothes for the Eid al-Fitr holiday. Thanks to our Egyptian YES alumni for sharing their insights and generous spirits with their home communities!
6. Ramadan Projects in Pakistan: What better way to celebrate Ramadan than by providing food for those in need? 43 YES alumni (pictured below) purchased, collected, and distributed food packages and Iftar dinners for families across Pakistan. Thanks to their efforts nearly 350 families in Faisalabad, Hyderabad, Karachi, Mansehra, Peshawar, and Rawalpindi received meals!
---