---
Third Annual Alumni Association Leader Training
May 25, 2016
"My biggest lesson learned is that in order to be a good leader, you need to be able to train new leaders," said one YES alum at the 2016 YES Alumni Association Leader Training (AALT). That quote perfectly sums up the training that occurred in Johannesburg, South Africa from May 13-15, 2016!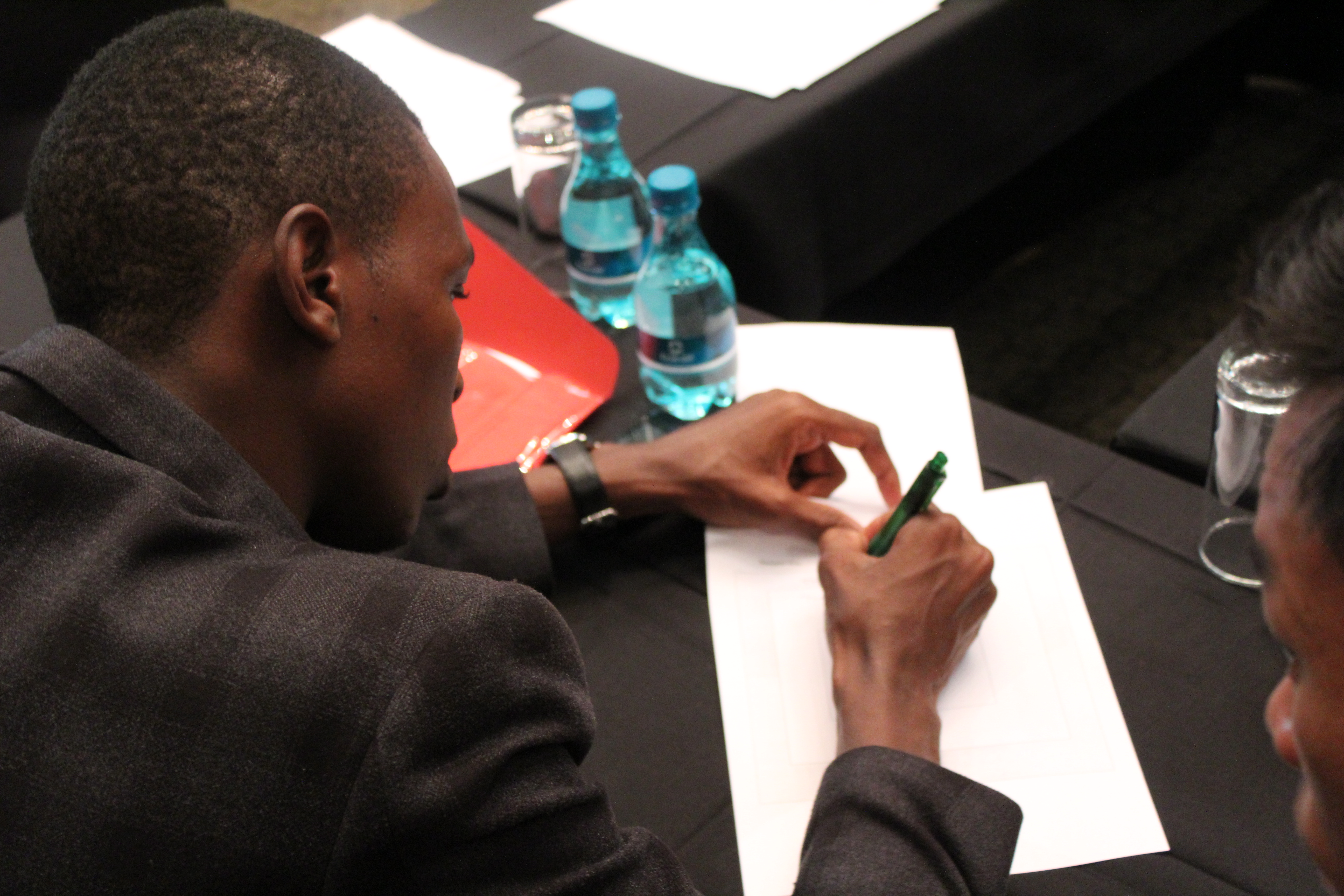 For the third iteration of the AALT, the aim was not only to strengthen the participants' leadership skills, but also to teach them how to teach others how to be leaders. Twenty-seven alumni leaders from 24 countries attended the three-day workshop, as well as YES alumnus Omer Ongun (YES 2003-2004, Turkey, hosted by AFS in Beaver Dam, WI), who attended as a trainer.
Photo: Jonito Xavier Ribeiro (YES 2009-2010, Mozambique, hosted by AIFS (AYA) in Olathe, KS) working on his final project.
Alumni attended sessions on topics like mentoring, motivating others, budgeting, and reporting, but they also learned about how to facilitate trainings. After each session, participants honed their facilitation skills by breaking into small groups and teaching each other about the session they had just attended. In this way, everyone was a trainer and a participant!
Alumni practice their facilitation skills by teaching each other after attending sessions on leadership development, mentoring, and motivating others.
Photo: Chandrajit Chingakhan (YES 2011-2012, India, hosted by AIFS (AYA) in Hobart, IN) planned a project to educate women who never had the opportunity to go to school for his final project.

On the final day of the workshop, alumni utilized all they had learned throughout the training to either plan a community development project or a leadership development training that they will conduct within three months of their return home. Alumni created a wide range of final projects based on what they felt was needed in their home community! The alumni from Bulgaria and Tanzania planned facilitation sessions on team building and mentoring, which they plan to implement during the June reentry orientations for new alumni. On the other hand, alumni from Senegal and India planned education-related projects, focusing of parent sensitization towards education and women's education respectively.
Busra Kiriscioglu (YES 2012-2013, Turkey, hosted by AYA in St. Cloud, MN) created the following community development project plan for her final assignment: "We will help integrate Syrian refugees into our society by bringing mothers from Syria and Turkey together to form a support group. We will teach them how to make handicrafts that they can sell to bring money to their families, and as they work on their products, they will be able to talk and share their ideas and challenges. We will also watch their children during this time and mentor them."

The trainers were extremely impressed with how hard the participants worked and the wonderful ideas they came up with! From their perspective, the alumni also enjoyed the workshop and felt like they learned a lot. One said, "Thank you for everything! It has been the most productive leadership workshop I had attended! It was definitely worth the 30-hour travel time. I am extremely thankful to have been invited to the training, and to have connected with such great alumni and amazing facilitators!"
Photo: Johnson Badawi (YES 2010-2011, Philippines, hosted by PAX in Cedar Rapids, IA) and Khoo Swee Lyn (YES 2012-2013, Malaysia, hosted by NWS Peace in Littleton, MA) take time out of their debrief session to pose for the camera!

See even more photos from the training on the YES Flickr page.
---